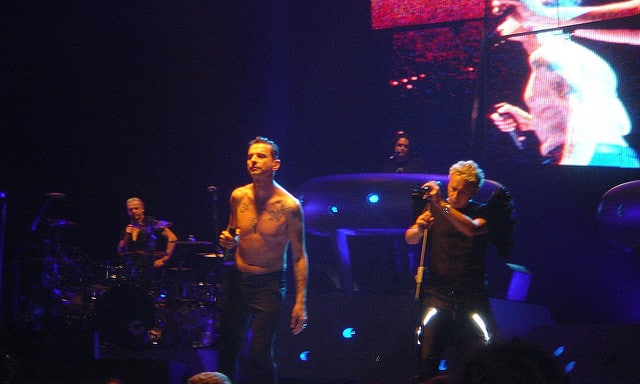 Depeche Mode are to release a new live album and concert film, from their European tour in 2013, the movie is titled Depeche Mode Live in Berlin. It features footage of the band's concert in Berlin last November, as they toured their album Delta Machine.
The tour drew in more than 2.4 million fans across 32 countries. The film captures a 21-song set, behind-the-scenes footage, interviews and an acoustic session.
It's been directed by Anton Corbijn, who directed 'Control,' the 2007 biopic of Joy Division's singer Ian Curtis. He has previously worked with Depeche Mode directing the band's 1989 music video 'Personal Jesus' and 1990's 'Enjoy the Silence'.
Some of his other works include U2's 'One' shot in 1991, Bryan Adams' 'Do I Have to Say the Words?' and Nirvana's iconic 'Heart-Shaped Box' video.'
The director said, "Depeche Mode has a strong following in the German capital and the film tries to capture the highlights of these concerts as well as that special connection through interviews with fans and bands alike. Berlin has a special place in the hearts of Depeche Mode."
Corbijn also shot an additional documentary called 'Alive in Berlin', featuring footage of the live show, behind-the-scenes footage, interviews with the band and their fans, and an acoustic session filmed in Berlin's oldest existing brothel.
A deluxe edition package includes both films, as well as a two-disc live album, a Blu-ray CD version of Delta Machine, and a 16-page booklet. Live in Berlin will also be available in standalone CD and DVD packages.
Live in Berlin DVD Tracklist:
Intro
Welcome To My World
Angel
Walking In My Shoes
Precious
Black Celebration
Should Be Higher
Policy Of Truth
The Child Inside
But Not Tonight
Heaven
Soothe My Soul
A Pain That I'm Used To
A Question Of Time
Enjoy The Silence
Personal Jesus
Shake The Disease
Halo
Just Can't Get Enough
I Feel You
Never Let Me Down Again
Goodbye
Credits
Live in Berlin CD Tracklist:
CD1
1. Welcome To My World
2. Angel
3. Walking In My Shoes
4. Precious
5. Black Celebration
6. Should Be Higher
7. Policy Of Truth
8. The Child Inside
9. But Not Tonight
10. Heaven
11. Soothe My Soul
CD2
1. A Pain That I'm Used To
2. A Question Of Time
3. Enjoy The Silence
4. Personal Jesus
5. Shake The Disease
6. Halo
7. Just Can't Get Enough
8. I Feel You
9. Never Let Me Down
10. Goodbye