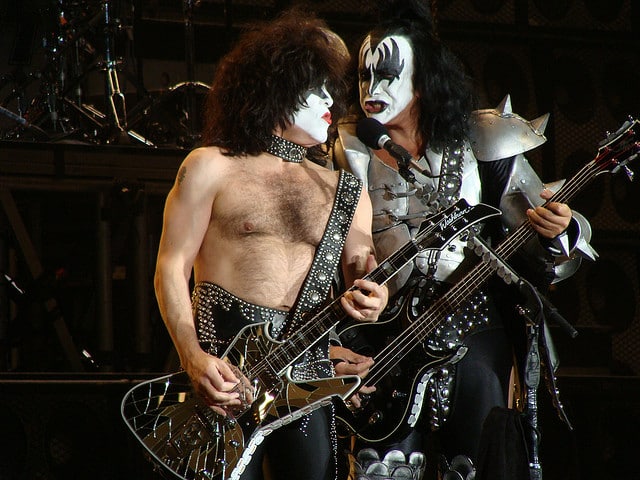 A new Kiss exhibition has opened in Los Angeles at the Morrison Hotel Gallery. The art exhibition has a range of different artworks on display that feature Kiss.
The exhibition features The Legacy Of Kiss, a career-spanning photographic show featuring pictures from Bob Gruen, Danny Clinch, Lynn Goldsmith, Neal Preston, Norman Seeff, Patrick Harbron and Travis Shinn.
It will also debut several pieces of art from the Kiss + Ukiyo-e Project, a series of traditional Japanese wood block prints. These will be available in a signed, limited edition of 200 from the gallery and online.
Speaking about the Kiss exhibition, the organizers said "We are planning to collaborate with world-popular animation characters and celebrities such as professional athletes, singers, and movie stars, " adding that "We will create Ukiyo-e with those well-known figures and promote them in the world market."
The opening night of the exhibition was attended by Gene Simmons and Paul Stanley, as well as Alice Cooper, members of Anthrax, DJ Ashba from SIXX:AM, Brandon Boyd from Incubus, and many more.  The exhibition is open to the public until tomorrow, giving a chance for fans to see the new Kiss artwork.
Photo Credit: Vintage Fender Basses