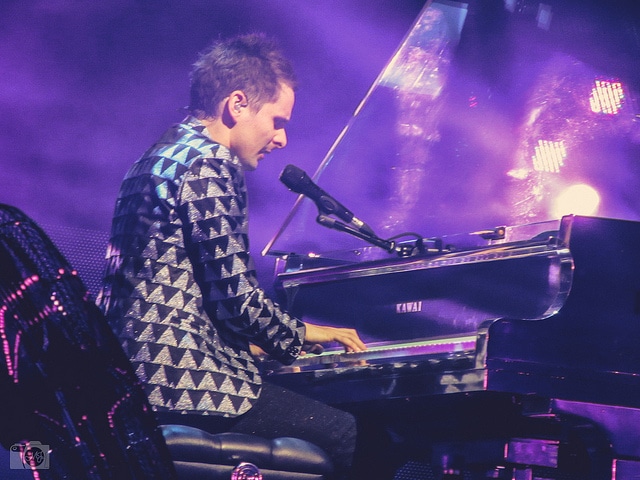 Good news for Muse-Os!
Muse have revealed details of their new album, they're playing a gig in Northern Ireland this weekend, and they're releasing a new track later today. Told you it was good news!
The Devon rockers already leaked their album title in a video from their studios a few weeks ago, now we know Drones will be released on June 8th, it will have 12 tracks and is produced by the band alongside infamous hit-maker Mutt Lange.
We are delighted to announce the Psycho UK Tour & the release of the new album Drones on 8 June! #MuseDrones pic.twitter.com/x48G5p8UsP

— muse (@muse) March 11, 2015
In a statement, published on the band's website, front man Matt Bellamy says: "To me, 'Drones' are metaphorical psychopaths which enable psychopathic behaviour with no recourse. The world is run by Drones utilizing Drones to turn us all into Drones. This album explores the journey of a human, from their abandonment and loss of hope, to their indoctrination by the system to be a human drone, to their eventual defection from their oppressors."
The first single from Drones will be track one: 'Dead Inside' and will be released on March 23rd, however you'll be able to pre-order the record tonight where you'll also get to download track 3 from the album: 'Psycho'.
As if that wasn't good enough, Muse have also announced live dates for the Psycho UK Tour, starting in Northern Ireland this weekend. They'll play the intimate Ulster Hall venue on Sunday, March 15th.
Full Track List for Drones by Muse
1. Dead Inside
2. [Drill Sergeant]
3. Psycho
4. Mercy
5. Reapers
6. The Handler
7. [JFK]
8. Defector
9. Revolt
10. Aftermath
11. The Globalist
12. Drones
Photo Credit: mayeesherr