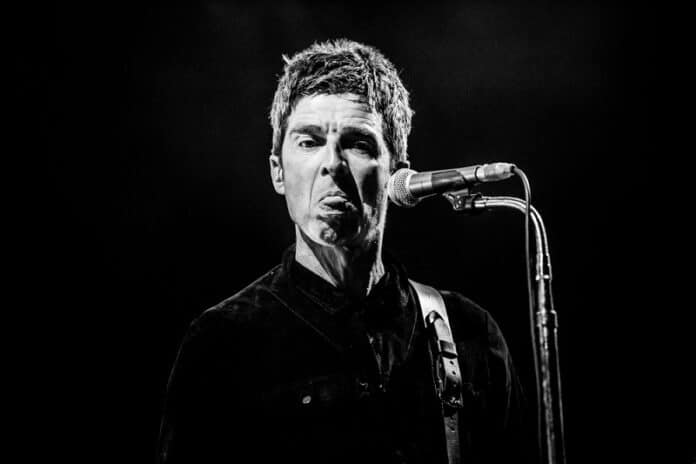 Following on from his big announcement yesterday regarding his new single and album with High Flying Birds, Noel Gallagher has now confirmed that Oasis will release a documenatary marking 25 years since the band first gigged at Knebworth.
Noel has confirmed that this new documentary will explore the band's first gig at Knebworth in August 1996. Oasis played at the venue in front of a crowd of 280,000 across two nights.
"Releasing it now" – Noel Gallagher
Speaking to Zoe Ball, Noel Gallagher confirmed that this documentary will include previously unseen footage that was shot for the first time of the shows at Knebworth.
He said, "There's a lot of stories in the press about it being a film company for a biopic, which of course it's not". 
Adding, "The gig Oasis did at Knebworth is 25 in August and back in 1997 we'd filmed it all really professionally with loads of cameras, we had cameras on the trains with fans". 
"But for one reason or another, the film never came out but as it's the anniversary coming up, we're going to be releasing it now". 
"I've seen a tiny trailer of it and it's a fantastic snapshot of a bygone era before the internet", added Gallagher. "It's great, really great".
"Something special"
Back in February, fans of Oasis were invited to share their experiences of the band's performances at Knebworth.
A mailout for the band's official website invited fans to share "your best memories and photos, videos and memorabilia" for "something special".
February also saw Oasis mark the 25th anniversary of one of their many celebrated tracks "Don't Look Back In Anger". The band released a lyric video for one of their B side tracks "Step Out".
A new lyric video for "It's Better People" was also released which is a B side to their track "Roll With It".
"Dont Look Back In Anger" was released on 19 February 1996 from their album "What's The Story Morning Glory". More on this story here.
Noel Gallagher departed Oasis in 2009 and since then, his relationship with brother and bandmate Liam Gallagher has become estranged. However, we also reported that the brothers have appeared to set up a film company together. More on that here.
Speaking of Knebworth, Pink Floyd also released a live album from their performances at the venue this month. More here.