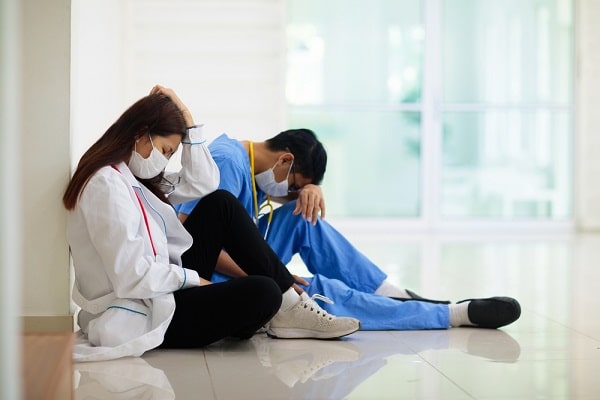 NHS staff say they have reached breaking point as hospitals across England reach record numbers, while working with less staff. According to reports, an increasing number of hospitals are declaring they are in crisis with Essex, and particularly London, extremely bad.
Many NHS hospitals are old buildings which have not been built to deliver oxygen on such a large scale. This is leaving some hospitals short in supply and forcing them choose between patient's urgencies.
A highly infectious new strain of COVID is sweeping across the country with infection rates rocketing in London and the South East. The Royal London Hospital is said to be in "disaster medicine mode" as rising numbers of COVID-19 patients leave them unable to provide high standard critical care.
Dr Julia Grace Patterson wrote on Twitter that the UK's busiest hospital had sent an email to notify staff of the dire situation. The leaked email revealed that there is only one available nurse per three COVID patients treated in intensive care.
The founder of NHS campaign group Every Doctor UK shared: "From the Royal London Hospital, this email from management: 'We are now in disaster medicine mode. We are no longer providing high standard critical care because we cannot'. The content of this email is SHOCKING."
In the days previous, bosses at the London hospital had been urged to declare a major incident by senior medics. The staff were at breaking point, as the number of coronavirus patients tripled in just five days. 200 patients attended Christmas Eve, with that number rising to 638 by Tuesday.
The government revealed yesterday that a further 964 people had died within 28 days of testing positive. That brings the total number of UK COVID deaths to 73,512, with hospitals surpassing admissions beyond the April peak.
Official figures show NHS intensive care wards are busier now than they were last year, even with over 700 extra beds. With a rise in admissions of patients catching COVID over the Christmas break, there is an increasing number of hospitals declaring they are in a crisis.
Dwindling oxygen supplies are heaping on the pressure and NHS chiefs say staff absence doubled because of illness and self-isolation. Some hospitals are in desperate need of nurses to return early from Christmas holidays and further time off in January is now banned by some trusts.
Footage on social media revealed that queues of ambulances were lined up outside the Royal London Hospital and Queen's Hospital in Romford, both in east London. There were also reports of delays at NHS hospitals in East Anglia, South Wales and Birmingham.
Doctor Punith Kempegowda tweeted: "Just getting out of a&e after another loooooooong day. Almost all these ambulances are waiting with patients inside them for more than 3 hours because there's no place in hospital to bring them in."
An Essex trust called in the army and declared a "major incident" at its six hospitals yesterday, allowing them to move patients elsewhere, speed up discharging, call in extra staff as well as cancel non-emergency care and operations. The steps in which the government will take assist the NHS and help hospitals in the county will be set out by the Department for Health and Social Care.