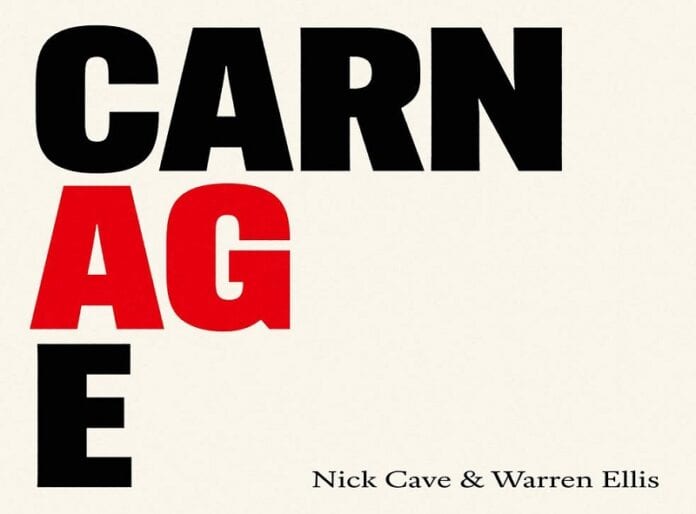 Nick Cave and Warren Ellis have surprised fans by releasing their new album 'Carnage'.
It was public knowledge that the new record was on its way, but the release date was never made public and the pair released the album, taking many by surprise.
Due to the pandemic, Nick Cave cancelled his already rescheduled Europe and UK tour. Cave said on many occasions that lockdown was the "time to make a new record."
He then confirmed that he and long time Bad Seeds member, Warren Ellis were working on a new album entitled 'Carnage' and Cave described the album on his website as "a brutal but very beautiful record embedded in a communal catastrophe". 
Now, Nick Cave and Warren Ellis have released the album digitally. It is available to stream now and will be available in vinyl and CD format on May 28.
Speaking about inspiration for the new record, Cave said "reading, compulsively writing and just sitting on my balcony thinking about things" inspired him.
He went on to add that he had no intention on writing a new album but "the record just fell out of the sky. It was a gift" he said.
Technically, 'Carnage' isn't a full Nick Cave and The Bad Seeds album, as it was just Cave and Ellis. However, the pair have worked together since 1997 and Ellis has worked with Cave on other projects outside of The Bad Seeds.
Describing the record process, Ellis said it was "two people sitting in a room taking risks and letting whatever happens, happen."
"Making 'Carnage' was an accelerated process of intense creativity. The eight songs were there in one form or another within the first two and a half days and then it was, 'let's just make a record!' There was nothing too premeditated about it." (Quotes, Per NME)
You can listen to the new album here.
'Carnage' tracklist
1. 'Hand of God'
2. 'Old Time'
3. 'Carnage'
4. 'White Elephant'
5. 'Albuquerque'
6. 'Lavender Fields'
7. 'Shattered Ground'
8. 'Balcony Man'
Photo Credit: Nick Cave and Warren Ellis.