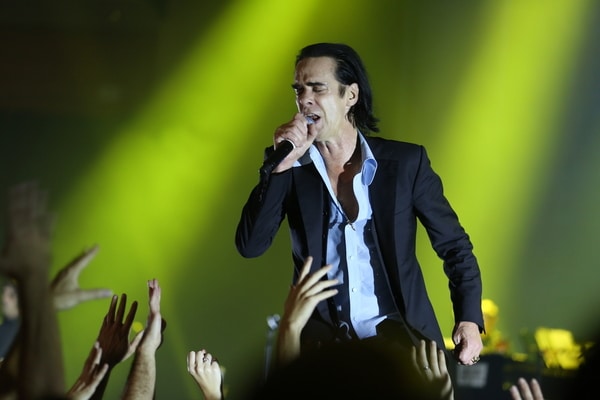 Nick Cave is the latest artist to cancel planned Russian shows.
Cave and his group the Bad Seeds were scheduled to perform at Moscow's Bol Festival on June 18th. Along with that show, they have cancelled their performance at Kyiv's Palace of Sports complex on August 19th.
Cave and the Bad Seeds announced the cancellations on social media.
"In light of current events, we have no choice but to cancel our shows in Russia and Ukraine which were due to take place this summer," they wrote. "Our thoughts and love go out to the brave people of Ukraine, their heroic leader, and all those suffering from this senseless war. Ukraine, we stand with you, and with all those in Russia who oppose this brutal act, and we pray that this madness is brought to a close soon. Nick Cave & The Bad Seeds."
— Nick Cave & The Bad Seeds (@nickcave) March 1, 2022
The Canadian city of Montreal is set to host a Nick Cave exhibition in April.
Titled Stranger Than Kindness, the exhibit will offer fans "an unprecedented look into the creative world" of Cave.
The exhibit was previously on display in Copenhagen, Denmark last Spring.
It will open at Montreal's Galerie de la Maison du Festival on April 8th and run until August 7th.
"With more than 300 objects collected or created by Nick Cave through six decades of his creative and private life brought together in large-scale installations, the exhibition is an artwork in itself," reads a statement on the exhibit.
Visitors to the exhibit are invited to "follow Cave's development as an artist – and to gain insight into the overarching themes of his work, his working methods and the many sources of inspiration underpinning it all. Behind each work is an equally fascinating artistic process not originally intended for public view; the exhibition opens up the innermost parts of Cave's creative universe and offers a story of its own."
Cave recently paid tribute to Mark Lanegan, the Screaming Trees and Queens of the Stone Age singer who passed away last week.
"I encountered Mark many times over the years — we engaged in some extremely dubious escapades back in the '90s; he sang 'White Light/White Heat' and 'Fire and Brimstone' with Warren [Ellis] and me on the Lawless soundtrack; he recorded my favourite ever Nick Cave cover — an astonishing version of 'Brompton Oratory'; we did something together for the Jeffrey Lee Pierce record, I think; and he toured and hung out with us on The Bad Seeds' 2013 Australian tour," Cave wrote on his Red Hand Files website.
Cave went on to call Lanegan "a true singer, a superb writer and beautiful soul, loved by all."