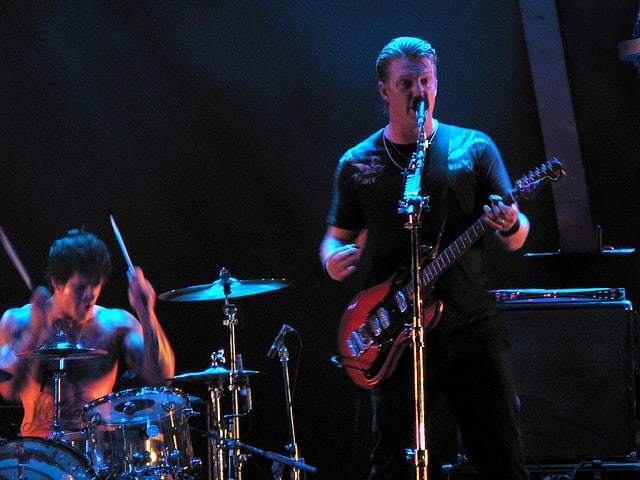 Former Queens Of The Stone Age bassist Nick Oliveri rejoined his old band for their Halloween concert at The Forum in Los Angeles.
The bassist appeared on stage with his old band members for a six-song encore set.
Oliveri left Queens Of The Stone Age in 2004 but did work with his ex-band on their last album Like Clockwork, providing backing vocals on the track 'If I Had A Tail'. In April, he played some songs on stage at Portland's Keller Auditorium, with his old group for the first time in 10 years.
Previously speaking to NME, Oliveri said: "Josh asked me to come up and do six songs with Queens, like an encore set. A reunion, but not a reunion. I'm going to get up and play some bass and sing some songs at the end of the show. It should be an interesting night."
As The Palm Desert band began their encore, frontman Josh Homme dressed as a priest, Oliveri strode across the stage half-way through their performance of the insanely good 'You Think I Ain't Worth a Dollar, But I Feel Like a Millionaire'.
The band stood silent as a red light followed a figure with the trademark shaved head and flowing goatee, Nick wore the prefect costume for a notorious rocker, devil horns. He took over the vocals for the ending of the first encore song, as the crowd erupted.
The six-song encore also included the tracks 'Quick and to the Pointless', 'Auto Pilot', 'Another Love Song', and 'Gonna Leave You', which hadn't been performed live in over a decade.
Watch fan-shot footage of their reunion below.
Queens of the Stone Age setlist:
'Keep Your Eyes Peeled'
'Feel Good Hit of the Summer'
'The Lost Art of Keeping a Secret'
'My God Is the Sun'
'Smooth Sailing'
'If I Had a Tail'
'Little Sister'
'Someone's in the Wolf'
'The Vampyre of Time and Memory'
'I Sat by the Ocean'
'Make It Wit Chu'
'Regular John'
'No One Knows'
'Go With the Flow'
Encore:
'You Think I Ain't Worth a Dollar, But I Feel Like a Millionaire'
'Quick and to the Pointless'
'Auto Pilot'
'Another Love Song'
'Gonna Leave You'
'A Song for the Dead'