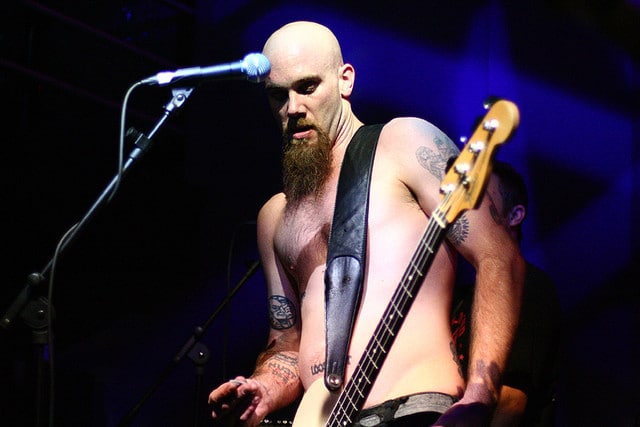 Former Queens Of The Stone Age bassist Nick Oliveri will rejoin his old band for their Halloween concert at The Forum in Los Angeles.
The bassist will appear on stage with his old band members for a six-song encore set.
Oliveri left Queens Of The Stone Age in 2004 but did work with his ex-band on their last album Like Clockwork, providing backing vocals on the track 'If I Had A Tail'. In April, he played some songs on stage at Portland's Keller Auditorium, with his old group for the first time in 10 years.
Speaking to NME, Oliveri said: "Josh asked me to come up and do six songs with Queens, like an encore set. A reunion, but not a reunion. I'm going to get up and play some bass and sing some songs at the end of the show. It should be an interesting night."
Oliveri stated that he is open to recording with the band again but the decision is entirely in the hands of frontman Josh Homme.
"That's pretty much up to Josh. It's his band, and when he pulls the trigger on something, it's up to him. I put myself out there a few different times in the past 10 years at Queens shows. I'd go and see them play and say, 'Hey man, I'm here! Do you want me to sing a song?' I stopped asking him after a while, and then he asked me! It's pretty much just when he wants to do something, these days. It's not up to me, is what I'm saying."
He continued: "I always put myself out there, and so finally he came up with this Halloween date. First he asked for my band to open up, and I said yeah. Then he got back to me and said: 'At the end, do you want to do some of the old songs?' I was like, 'Sure man! Let's do it!' It should be a very fun and interesting night."
Nick Oliveri released his first solo album Leave Me Alone on September 15th, featuring a guest guitar appearance from Phil Campbell of Motörhead.