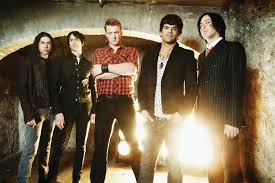 The former bassist has returned to the line up after a ten year break away from the band. Oliveri returned to the band to sing the lead vocals on "You Think I Aint Worth A Dollar, But I Feel Like A Millionaire".
The band were playing at Portland's Keller Auditorium. Although Oliveri provided backing vocals on the Queens Of The Stone Age's newest album"Like Clockwork" this was the first time they performed together since Oliveri left in 2004.

It looked to be a very emotional reunion as you can see when Nick gets hugged by Joshe, and then hugs Troy Van Leeuwen, and appears to tear up as he leaves the stag.
Some fan footage of the performance was recorded and can be seen below.