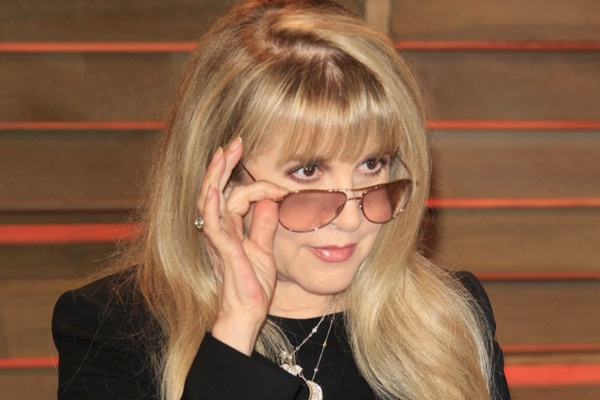 Stevie Nicks has compared Vladimir Putin to leader of the Nazi regime, Adolf Hitler, in an anecdote of a Ukrainian artist. Taking to social media, the Fleetwood Mac singer shared the note, with a photo of a hand-painted box she had received from her.
Within her message about the woman, Nicks thanks her for the beautiful box and hoped for her safety during these desperate times. She wrote: "At 4am this morning, me and a friend sent a message to a lady in Ukraine who sent us a beautiful hand-painted box~ to thank her again and check up on her after watching the news all night ~ she immediately wrote back that she was home and still fine…
"At 4:45am she wrote us back that she was now~ 'just trying to escape'; that changed everything," Nicks continues. "Now I know someone, an innocent person, who is having her freedom taken from her. I have been crying ever since.
"My mom said to me after 9-11 ~ don't forget what your father and I were fighting for; don't forget it… (I am glad she isn't here to see this.)" Nicks added that, "This is Hitler coming back to haunt us. In one evening ~ until now, an entire sovereign country has been full-on ~ invaded. How dare he.
"My heart is broken for our new friend~ and for the people of Ukraine~ I am so, so sorry. Love and prayers for them, Stevie Nicks."
Although Nicks referring to Putin as Hitler can be shocking to hear, the similarities between the pair have been pointed out by many. In the Russian city of St Petersburg, Vladimir's hometown, one person graffitied a wall with the message of "ADOLF PUTIN".
Putin, who signed a bill in 2020 granting immunity from crimes when he leaves office, had also been depicted in a political cartoon with the Nazi supremist. A Twitter account with the handle @Ukraine posted an oversized Hitler staring deeply into Putin's eyes, as the Nazi war criminal has his hand touching the Russian president's face.