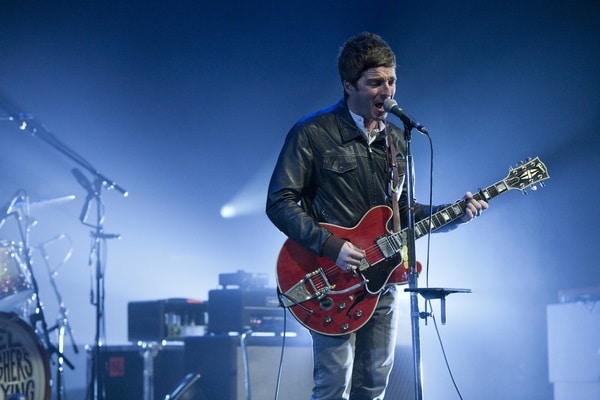 Noel Gallagher and Hall & Oates have given their seal of approval to a 1980s reimagining mash up of 'Don't Look Back In Anger' and 'Out Of Touch'.
The track which was released by the band DECO, mashes classic Hall & Oates hit 'Out Of Touch' with Oasis' hit 'Don't Look Back In Anger' together.
This was a mash up which was met with a huge thumbs up from Noel Gallagher and Hall & Oates.
"STILL a tunnnne"
Responding to the band's assumption that he'd be "livid" with the reversioning, Noel Gallagher tweeted, "In any era it's STILL a tuuuune!!".
Noel Gallagher is going to be livid 😄

If 'Don't Look Back In Anger' came out in the 80s 😎💥

Mashed with Hall & Oates x pic.twitter.com/XPRfsODcHU

— DECO (@decobanduk) November 22, 2022
Deco also responded to these comments by adding, "We were wrong… thanks Noel". 
We were wrong… thanks Noel 😄 https://t.co/oupK0Gw1Zi

— DECO (@decobanduk) November 23, 2022
Hall & Oates also added the "100" emoji under the tweet, to which Deco replied "Flippin ek, gets better".
DECO are also renowned for such ambitious mash ups, having released a reimagining of The Verve's 'Bitter Sweet Symphony' and Coldplay' 'Yellow'.
Gallagher Reveals New Album 
A few weeks ago, Noel Gallagher seemed to share the release date for his band High Flying Bird's next album.
The album 'Pretty Boy' seems to be arriving next May, according to Gallagher who made this revelation when discussing the current form of his beloved Manchester City.
"The team is doing good, we're having a good season. Hopefully we will be in Istanbul [for the Champions League final] around when my new album is out next May, so that would be good", he said.
"I can't say what the album is called yet though", the singer also added.
Regarding the single itself, Gallagher had also released this statement, "For this new record it was the first thing I wrote, the first thing I demoed and the first thing I finished, so it's only right that it's the first thing people get to hear".
"Massive shout out to my mainest man Johnny Marr for taking it somewhere special. Oh… and watch out for a cameo from me in the video… first one to spot me wins a bag of Flamin' Hot Wotsits Giants!!".
Elsewhere, Noel's estranged brother Liam also hit back at critics who castigated him for including Oasis tracks in his solo catalogue. Find out what was said here.