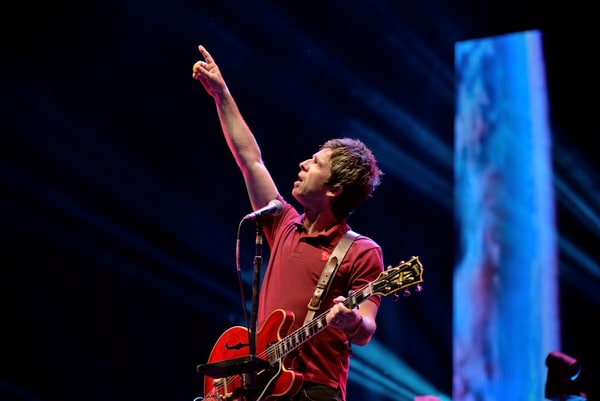 Noel Gallagher contributed to the celebrations around what would have been David Bowie's 75th birthday with a cover of Valentine's Day.
A special online livestream was held as part of the weekend's celebrations. The stream featured former bandmates of Bowie, along with Duran Duran's Simon Le Bon and John Taylor, Def Leppard, Living Colour, Walk The Moon and Jake Welsley Rogers. Non-musicians like Ricky Gervais, Gary Oldman and Evan Rachel Wood also made appearances.
Gallagher contributed to the livestream by performing a cover of Valentine's Day, a track from Bowie's 2013 album The Next Day.
You can watch the performance below.
Coinciding with the weekend's Bowie 75 celebrations was the announcement from Madame Tussaud's that their London wax museum will soon feature a new Bowie sculpture.
The museum's current Bowie figure was posed for by the star in 1983. The new team of artists have used this sitting as a reference for the new sculpture which will be on view from March.
"David Bowie is one of music's greats," said Tim Waters, General Manager at Madame Tussauds London. "On what would have been his 75th birthday the most fitting tribute for Madame Tussauds London to give to our old friend is the creation of a new figure. His music inspired the masses and, for so many, changed the way they viewed themselves, and we hope remembering him here will ensure that it continues to do so for centuries to come. We felt privileged to work with him back in the '80s and are just as honoured to work with his estate now to continue the legacy of this truly outstanding music career."
On what would have been his 75th birthday, we are SO excited to reveal that we're making a brand new figure of David Bowie ⚡️
Using measurements and images from his original sitting in 1983, the figure will join our BRAND NEW music zone, launching later this year 🎉 pic.twitter.com/Gi3ExkWKiz

— Madame Tussauds London (@MadameTussauds) January 8, 2022
Noel Gallagher recently gave fans a tease of the upcoming new High Flying Birds album. The ex-Oasis member shared a demo titled Trying To Find A World That's Been And Gone: Part 1, which you can hear below.
Gallagher revealed that he completed writing the album and recording demos in December.
"So we didn't actually get there in the end did we?" he wrote to fans on his official mailing list. "I finished writing/demoing the next NGHFB album about 10 days ago. Thought you might wanna hear this little piece which – like last year's offering – sounds quite appropriate for this New Year's Day."
Referencing New Year's Eve, Gallagher wrote "Hope you had THE BEST night (as much as was allowed anyway) and hopefully we'll catch up somewhere in the summer."
Responding to the demo on Twitter, Noel's brother and ex-Oasis bandmate Liam wrote "Miserable arse cheer up you billionaire."
Miserable arse cheer up you billionaire

— Liam Gallagher (@liamgallagher) January 1, 2022
Noel announced that his next album would be recorded at the legendary Abbey Road studios and that he would document the process on film.
Recording begins later this month and Noel claims the album will feature some of his best work to date.
"One is one of my favourite songs that I've ever written, it's got great chords and it's very, very sad," he said. "In the verses the music is quite sad and the sentiment in the verses is quite strong, but in the chorus the music is quite uplifting and the words are quite sad. It's a fucking great song."