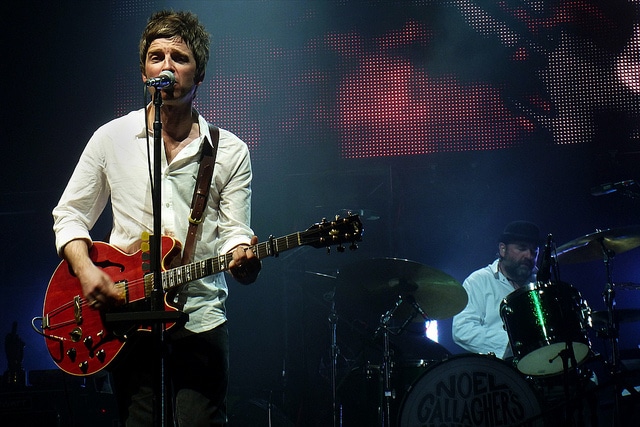 Noel Gallagher doesn't take things too seriously, so when he was pitched a business venture he thought was ridiculous he promptly laughed in the man's face.
The singer-songwriter was speaking to London based radio station XFM about his new single, Glastonbury and the possibility of a west end project.
In an interview with DJ Jon Holmes, Gallagher claims he was approached about the idea of a 'rags to riches' Oasis musical.
Noel said: "Somebody did talk to me once about doing a musical, he was an American dude. After I'd stopped laughing I realised that he'd walked off!"
"He was like, 'The rags to riches story of Oasis.' After I'd belly-laughed and spewed up my drink, I realised he wasn't there anymore. I don't think it'll be happening anytime soon."
Noel was quick to mention (for the second time in the past few weeks), that he's still got lots of free time over the Glastonbury weekend, hinting that he might just take a stroll down to Worthy Farm with his guitar.
"It's still very much up in the air as far as I know. If I'm not playing, I'm going! So I'll be there. I always keep that weekend free if I can. I will state again I'm available, I'm gonna be there, shall I bring my amp and guitar? Shall I?"
Yesterday, Gallagher released his new music video with Johnny Marr, for the single 'Ballad Of The Mighty I', taken off his upcoming album.
His new LP titled Chasing Yesterday, is due out on March 2nd and is the second LP from the singer and his band High Flying Birds.
Commenting on his new material, Noel said: "It's exciting. It's like tickets going on sale, you start to feel the reaction from other people. People will see you in the street, friends will hear it on the radio, and you'll instantly think 'well, yeah, people do like it'!"
Noel Gallagher and The High Flying Birds are playing at Dublin's 3 Arena on Wednesday March 4th.