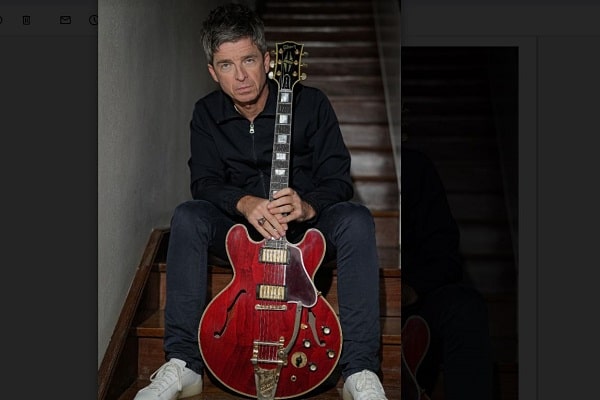 Noel Gallagher confirmed details of his two Custom and Epiphone guitars.
Launched yesterday (August 30), two models which are inspired by Gallagher's collection were unveiled fom the Custom Gibson Guitar Shop. Another guitar was also unveiled from Gibson's budget brand Epiphone.
The Noel Gallagher 1960 ES-355 has been inspired by the singer/songwriter's original ES-355. Gallagher purchased this original guitar back in 1997, using it on a myriad of live shows since.
This Noel Gallagher 1960 ES-355 also features, "a multi-ply bound maple body, a mahogany neck and ebony fretboard, a Varitone switch, and a Bigsby® B7 vibrato tailpiece". They are also priced at $9,999 at the Gibson Online Store.
The guitars also come with a reproduced handwritten lyric sheet, custom Bear Strap like the one Gallagher has used, a brown and pink hardshell case, along with a signed Certificate of Authenticity.
New regarding these guitars was confirmed via social media. See here.
Meanwhile another guitar, the Noel Gallagher Riviera Epiphone is in Dark Wine Red and based on Gallagher's original 1983 Riveria. The guitar brand was keen to add historically accurate elements to this reproduction.
These include a truss rod cover and a brown sound hole label, an 'E' appointment on the pick guard.
Costing $899, the Epiphone guitar can be bought for either left handed or right handed users. More details can be found here. Even more info can be found here.
Everybody Singing 'Wonderwall' To Gallagher
Earlier this month, footage of an entire Spanish restaurant singing 'Wonderwall' to Noel Gallagher was released.
The former Oasis guitarist was dining at the restaurant in Ibiza with his family, before a DJ dropped the track.
Despite clear embarrassment, Gallagher eventually joined in with the rest of the diners. Check that footage and Nova's report on this here.