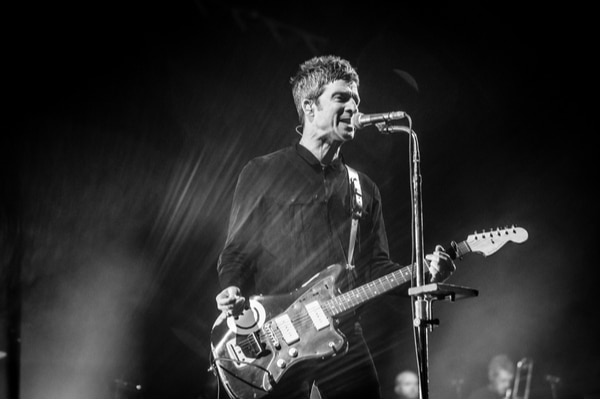 Noel Gallagher feels that rock music is too middle class for another band like Oasis to be discovered.
Having grown up in a working class family in Manchester with his brother Liam, Noel feels that people with his background would struggle to make it in the rock scene today.
"Where are the 14 year olds in bands now?", Gallagher asked when interviewed by the Daily Mirror. "Working class kids can't afford to do it now, because guitars are expensive, there's no rehearsal rooms. They've all been turned into wine bars and flats". 
"There's lots of singer songwriters, loads of middle class bands… wearing guitars as oppose to playing them. But four or five guys from a council estate can't afford guitars", he added.
Gallagher On Tour
This comes after it was confirmed that Noel Gallagher had added an extra date to his future Tour of the UK and Ireland. He will play in Margate on June.
Gallagher will play a number of shows across the UK with his High Flying Birds band. These shows include the Eden Project in Cornwall, as well as playing as part of the Bristol Sounds gig series this Summer.
The former Oasis star will also head over our way to play a show in Dublin's St Annes on June 5, before performing that extra Margate gig three days later.
The tour dates are as follows.
JUNE 2022
4 – Margam, Wales, In It Together Festival
5 – Dublin, St Annes Park
8 – Margate, Dreamland
9 – Newcastle, Rock 'N' Roll Circus
11 – Dundee, Summer Sessions
12 – Staffordshire, Cannock Chase Forest
15 – Cornwall, Eden Project
16 – Cheshire, Delamere Forest
18 – Colwyn Bay, Stadiwm Eirias
19 – London, Hampstead Heath Kenwood
21 – Halifax, The Piece Hall
22 – Bristol, Bristol Sounds
Last month saw Noel's estranged brother Liam Gallagher release his latest solo album Cmon You Know, a record which Liam called "80 per cent perculiar". 
As well as Noel, Liam Gallagher is to hit the Irish shores for a live performance. The former Oasis frontman is to perform live at Dublin's Royal Hospital Kilmainham on August 27.
Speaking of Oasis, Liam once again set the cat amongst the pigeons in one of the biggest "Will They? Won't Theys?" of music, by stating that he would "love" an Oasis reunion. The band of course split up in 2009 after a row between Liam and Noel.
Find out what Liam said here.
Foo Fighters frontman Dave Grohl also recently hailed Liam as "one of the last remaining rockstars".