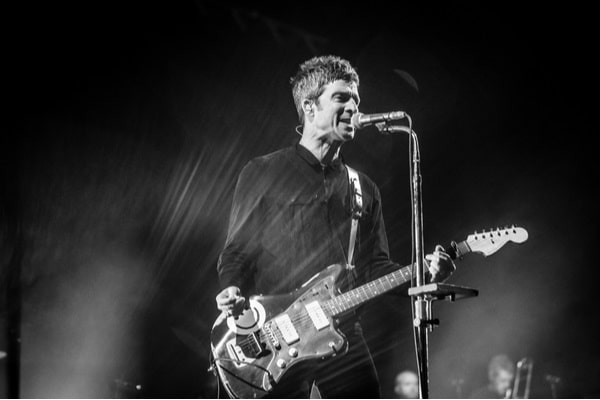 Would you like to listen to the article instead of reading it?
Noel Gallagher has picked which footballer he would love to recruit for his band.
The former Oasis guitarist and chief songwriter made this decision, during and interview with former footballer Ian Wright, on his Spotify podcast Wrighty's House.
The latest episode of this podcast was recorded live for a special at Spotify's HQ, where it was hosted by Ian Wright and Ryan Hunn, along with Wright's son, Shaun Wright-Phillips.
Former bandmates and estranged brothers Noel and Liam Gallagher are avid Manchester City supporters.
"The first gangster footballer"
When asked which footballer he would choose for his band, Noel Gallagher picked former Man City player Mario Balotelli. The Italian's career has been marred with controversey and downright bizarre anecdotes.
"I'd have Balotelli in it. The first gangster footballer", Gallagher said, before recalling one such downright bizarre anecdote from Balotelli's time at Man City.
"I was at training once and we come in and [Balotelli's] camouflage Bentley was parked sideways in the carpark", explained Gallagher.
He continued, "We'd watch City training and he was the best in training I'd ever seen anyone. He was insane. And as we left a story was breaking that he'd left a Liverpool strip club at 5am that morning and gone straight to training where he was running rings round everybody. He was insane". 
"Why always me?"
Elsewhere, Noel Gallagher also brought up another Balotelli story, which saw him wear a t-shirt with the words "Why always me?" emblazoned on the front in a 2011 Manchester derby clash against Manchester United.
City won the game 6-1, with Balotelli netting two goals, and it was after scoring his first goal that he revealed the t-shirt in his goal celebration.
This t shirt was a response to the barrage of press attention that he had received.
"Have you heard the story about the, 'Why always me?' shirt?", Gallagher asked the podcast co-hosts.
He also added, "So, my office are legendary for getting the wrong end of the stick of things. My manager called me and said, 'You know when you're up in Manchester, do you want to do an interview with Mario Balotelli?'". 
"So I said, 'Yeah, alright'. It's for Football Focus and I'm there waiting for training to finish, and the guy says, 'Do you want to see the questions?' and I said,'I don't like to see the questions before the interview' and he said, 'But you're asking him the fuckking questions' and I'm like, 'What?' And then he walks in and I've got to interview him. I'm like, 'What the f***?'".
The musician continued,  "So I was saying to him about the, 'Why always me shirt?' and I asked where it was and he said, 'Oh I don't know, it's in a holdall somewhere in my flat in Milan.' And I said jokingly, 'Can I have it?' and he said, 'Yeah, yeah, you can have it no problem.' And I've seen him a couple of times after and said, 'Can I have that shirt?' and he's saying, 'Yeah no problem". 
"no way" – Gallagher Shock Over Super Mario Gift
"Then I'm away on tour in South Korea and my PA Kat rings me and says I have parcel from Man City […] I said, 'Open it, and she says it's a shirt that says 'Why always me?' on it. And I was like, 'F**** off. F***** no way.' So I ask her to take a photo of it, got it on my iPad and I go and do the gig and looking at the picture in the hotel room after thinking, 'I cannot believe he's given me that massive piece of… hang on a minute, that doesn't look right – the question mark is just a fucking letter 'g' turned upside down". 
He also added, "So I've Googled the actual shirt and it's not the actual shirt! So I've called the kitman who I know and said, 'Is this the real shirt?' and he said, 'No, he was so embarrassed that he offered it to you that I've just made one up for you.' And I said, 'But it's not even a real fucking question mark!' I still got it framed at home though". 
'Wrighty's House' is available every Wednesday and Friday on Spotify.
Earlier this month, Noel Gallagher released his new single 'Council Skies' from his latest album of the same name. More here.