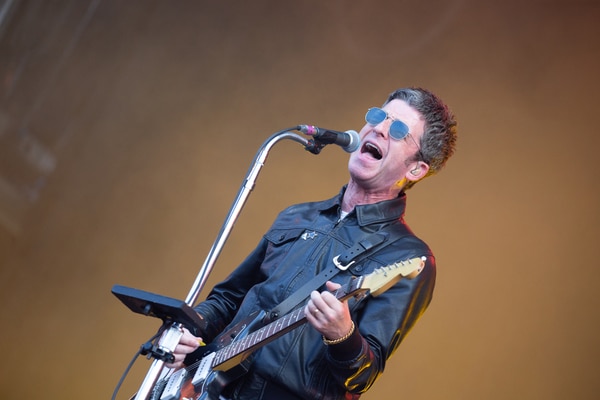 Noel Gallagher has expressed a desire to rerecord some of his Oasis classics in new, reworked versions.
Earlier this month Noel played a stripped down version of Oasis's Love Forever as part of a BBC Radio 2 session. Now he says he'd like to record an entire album of similar versions of his old band's tunes.
"I would be interested in doing an album of reworks in the style of that version (of Live Forever)," he said. "A bunch of Oasis reworks might be nice to do."
Noel feels that his maturity could lend a new dimension to songs he wrote as a young man.
"The original version is a young guy's song who is singing it with his life in front of him," he said of revisiting Live Forever. "When I hit that chord, I was like, 'Ah, this is like an old fella's chord, who is looking back on his life.'"
Noel has also spoken about the idea of embarking on a solo tour that would see him solely play Oasis songs.
"When I am making a record, I don't think about my legacy," Noel said. "I am in the trenches with the songs and I follow my instincts. How they come out is how they come out. As a whole, High Flying Birds is a totally different set-up to Oasis. They couldn't be more different."
"But when I put together a show, you have to merge the two," he continued. "You can't charge people £70 a ticket and not do a handful of Oasis songs, some of the most famous songs of the '90s. There is always a plan to take that out properly with an orchestra on tour, but I am not sure when that will happen because of the COVID shit."
Oasis fans are eagerly awaiting the release of Oasis: Knebworth 1996, a new documentary that opens in Irish cinemas this Thursday, September 23rd. The film looks back at the iconic double concert that took place while Oasis were at the vanguard of the '90s UK music scene.
Noel has described the film as "a real snapshot of a band at its zenith. Thank God we had the foresight to film it."
The documentary features never before seen footage, including Oasis performing with The Stone Roses' guitarist John Squire. You can watch that performance in the clip below with commentary from Noel and Bonehead.
A live Oasis Knebworth 1996 album is set to be released digitally, on CD and triple LP on November 19th.
"This is history, this is history, right here, right now."
25 yrs ago today, Oasis played the 1st of 2 iconic gigs at Knebworth.
Now experience this landmark event through the eyes of the fans who were there: https://t.co/sEvyNOaC8i#Oasisknebworth1996 pic.twitter.com/DnQmsvwTHv

— Oasis (@oasis) August 10, 2021