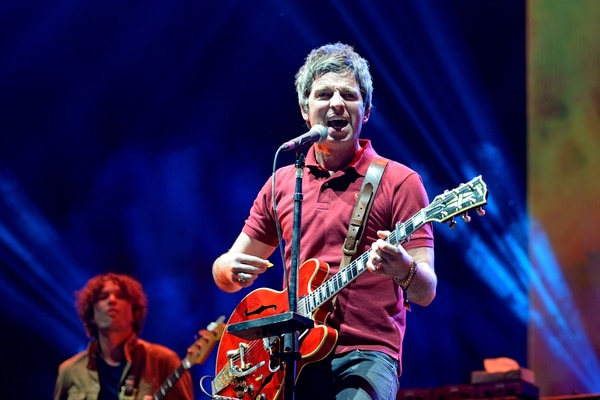 Noel Gallagher has been taking guitar lessons from an unexpected source.
In an interview on UK radio, Gallagher claimed he had recently been taught how to play the iconic riff from AC/DC's classic Back in Black.
Gallagher could probably afford to hire the world's greatest guitarists if he needed lessons, but he was taught the AC/DC tune by a source closer to home – his 10-year-old son Sonny.
As you might imagine, Gallagher's youngest son has been learning to play music himself, and has passed some of his knowledge onto his old man.
"He's doing good on the guitar," Noel said of Sonny. "He rattles around on it every night."
Noel went on to confess that Sonny had introduced him to AC/DC's legendary riff.
"He showed me, and I genuinely did not know how to play this riff, 'Back In Black,' which is a famous riff," he said. "He's a rocker, he likes AC/DC and Queen, it's fucking great. I hope he hasn't started too early so that when he gets to 18 he's bored of it. He's my little protégé."
While expressing pride in his son's musical development, Noel stressed that he isn't pressuring Sonny into following his father's career path.
"My plan was always not to say, 'Right, dad's a musician, you're going to be a musician, because I know loads of kids who have done that and by the time they get to 21 they've given it up," he said. "They're just not interested. So my plan was just to leave musical instruments around the house. Sonny's always had little keyboards in his room and a guitar. He literally picked it up and he's had a go. He's into it."
Noel went on to confess that Sonny embarrassed him with his lack of ability to play another AC/DC classic.
"Sonny was practicing a few things – 'Smoke on the Water.' And then he came home from school one night and said, 'Can you play 'Thunderstruck' by AC/DC?' I sheepishly went, 'No'. He was like, 'Guy, in our school, can play it and he's grade 2. What grade are you?' I was like, 'I'm grade £76 million, son. That's what I am, how about that?"
Noel recently got to see his boy perform live on stage during a school concert where he sang and played guitar as part of a four piece band.
"I've never been so proud of anything or anyone in my life," he gushed. "It was amazing."
Noel also revealed that he may be releasing a cover version of John Lennon's Mind Games.
The Oasis songwriter was asked by Lennon's son Sean Ono Lennon to contribute to his father's 80th birthday celebrations. As Noel was in the recording studio at the time he decided to record a cover of Lennon's 1973 track.
Gallagher teased a portion of the track on Instagram and now says he may release the full version.
"I'll finish it off and do it for… I'll do it for Record Store Day maybe or something," he promised.
View this post on Instagram