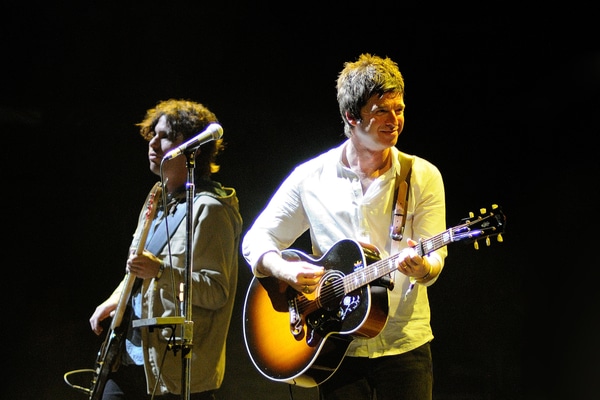 Manchester rocker, Noel Gallagher has revealed a very funny conversation he had with Keith Richards in the Bahamas, one New Year's Eve. The former Oasis man said Richards asked him; "Who is the bigger C***?" out of Mick Jagger and his brother Liam.
Speaking to Hometime presenters Andy Bush and Richie Firth on Absolute Radio, Noel recalled: "So I go up to the bar and there is Keith Richards, looking exactly as you would imagine, scarf and a hat, and his son is a friend of mine, Marlon, said 'Dad' and he suddenly turns around and says, 'ah your still around are you'".
He continued: "But he said a great thing, you'll have to bleep it out, but it is a brilliant line. His second line was, he said, 'one thing I've always wanted to ask you, who is the bigger ***t, your singer or mine?' and I said 'well, as your singer wrote some of the greatest lyrics of all time… I'm going to say mine."
As the conversation grew, the pair continued to hit small, tongue-in-cheek jibes at one another. Noel continued to say; "He [Richards] was like, 'Your band, you were quite interesting there for a while,' and I was like, 'I could actually say the same to you'. But he was great and such a dude. It kinda reaffirms your faith in all your heroes when you meet Keith, because he is the man."
During the interview, Noel spoke of his passion for Ireland's most successful rock band, U2 and vented his frustration at those who say they do not like any of their work.
"I'm like, 'No, what you're saying is you don't like Bono, right? …You're not telling me you don't like one single note that they've ever done.' It's rubbish, it's nonsense". When asked why he thought this was the case, the rocker responded, "I've said this to him, so I'll say it to you – nobody likes a do-gooder, nobody likes it. That's why people like me, I'm a do-badder."
It is no surprise at all that Noel would take a jibe at his brother Liam, following years of bitter remarks to each other. Elsewhere in the interview, the Manchester rocker revealed that Oasis could have ended up with a very different name. Noel revealed they might have called themselves The Sex Pistols, because they were so heavily influenced by both The Sex Pistols and The Beatles.
"When we started Oasis, we wanted to be a cross between The Pistols and The Beatles, we should have been called The Sex Beatles, I mean that would have been a great name wouldn't it."