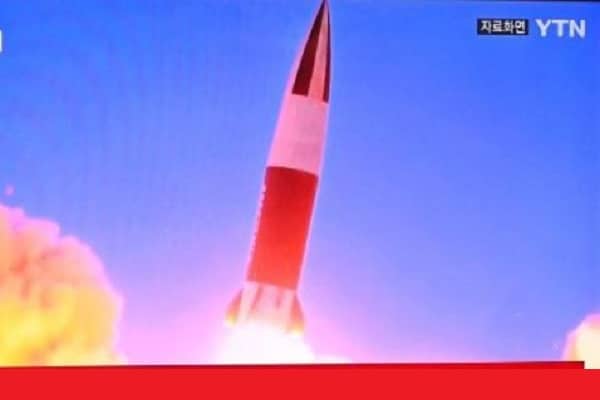 North Korea fired a short-ranged missile into the sea in the early hours of this morning, with Pyongyang's UN ambassador insisting on its undeniable right to test weapons. According to the South's Joint Chiefs of Staff, the missile launched from the mountainous, northern Jagang province at about 6:40am local time, towards the North's eastern sea.
Details of the launch were being analysed by South Korean and US authorities. Although, Japanese Prime Minister, Yoshihide Suga said North Korea fired "what could be a ballistic missile", with his government stepping up its vigilance and surveillance.
The latest launch is the third of its kind this month, following Pyongyang's testing of a "strategic" cruise missile and two railway-borne ballistic missiles. Under sanctions imposed by the United Nations, North Korea is banned from conducting ballistic missile tests as a result of its nuclear-armed weapons programme.
The launch has been condemned at the emergency National Security Council meeting, with the South Korean government expressing regret at the actions "at a time when political stability on the Korean Peninsula is very critical".
The US State Department has also condemned the launch, urging Pyongyang to open up a dialogue. In a statement, the Department calls the launch a "violation of multiple UN Security Council Resolutions", posing a threat to Democratic People's Republic of Korea's neighbours and the international community.
The missile launch had taken place in less than an hour before North Korea's UN envoy, Kim Song addressed the United Nations. Kim informed those in attendance of Pyongyang's "righteous right to self-defence" and explains that it is merely "building up our national defence in order to defend ourselves and reliably safeguard the security and peace of the country".
Kim notes that 30,000 US troops have been stationed in the South and that there had been no formal treaty to end the Korean War. North Korea's 1950 invasion of the South came to an end in 1953 with an armistice agreed between the two countries. However, tensions remain within the two countries as they technically still remain in a state of conflict.
In his speech, Kim told the UN that North Korea would "respond willingly at any time" if the US relinquishes its hostility. However, it is their judgement "that there is no prospect at the present stage for the US to really withdraw its hostile policy".