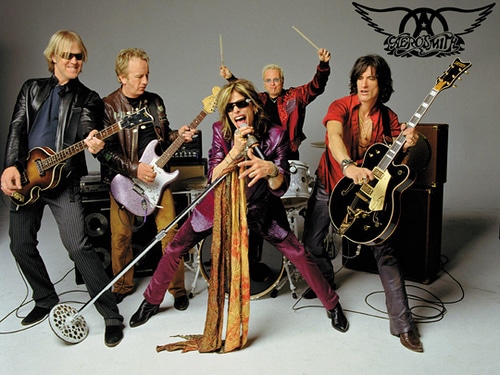 Aerosmith have postponed their plans for the American leg of their 2017 tour to work on some new music.
Steve Tyler & co. are gearing up for Aerosmith's Aero-Vederci Baby Farewell Tour which despite the name may or may not be their last tour – according to guitarist Joe Perry. The band are set to play shows across Europe this year, including a stop off here this summer. Check out the hilarious tour announcement video starring Tyler and Perry here.
They've been doing a lot of publicity for Aero-Vederci Baby recently. Drummer Joey Krammer was very vocal last month about his views on how Aerosmith measured up against the Rolling Stone. Now it's lead guitarist Joe Perry's turn to give us the goss.
In a recent interview with AZ Central, Perry opened up about theie "farewell" tour; not being ready to say goodbye and postponing the North American leg of their tour to work on new music!
When asked by AZ Central if this will be a farewell tour, he said, "Not officially, no."
"We postponed the American tour we were supposed to do this fall," he revealed.
Perry said that "one of the reasons we postponed [the American] tour" was to "give ourselves some time to get something done. We definitely have another record in us, if not two. But we'll see how that goes."
Speaking with AZ, the guitarist added, "And we're gonna go out and tour until we're done. And we're gonna try and hit every place we've ever played and never played. There's always new places to go. New countries. I'd like to play China and the Far East. There's a lot of places that are off the beaten path. Is this the last tour? Well, I don't know. I don't think so."
"It's still really exciting for us to get out and play. That's why we started doing it. It's amazing that I still get that feeling – and I know the other guys do. We've grown up together and managed to hold on to this band. It still feels fresh."
Perry said, "We're coming up on our 50th anniversary in 2020. I never would have thought we would have made it this far"
"We're the same guys that got together in 1970 in an apartment in Boston and we're still trying to play better than we did the day before, you know? Still trying to get it right 50 years later."
We're delighted to hear the rockers aren't "jaded". Aerosmith are set to play Dublin's 3 Arena, Ireland June 14th.
Picture Credit: friskytuna