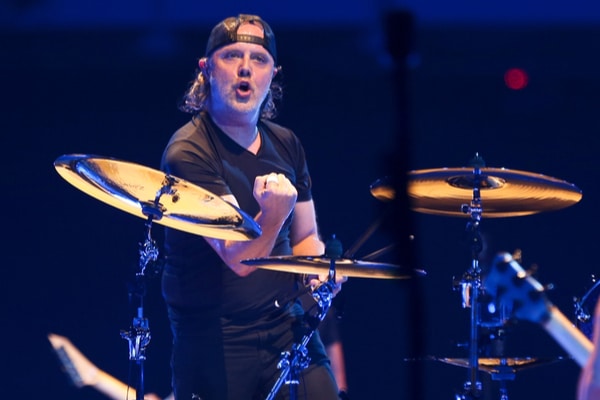 Metallica drummer Lars Ulrich has provided an update on the band's latest material.
Metallica have been working on new material during the Covid-19 pandemic. Lead singer James Hetfield had confirmed back in May, that the band had written ten new ten new songs via Zoom.
Hetfield told the Fierce Life podcast, "Because of COVID, just sitting at home and getting a little bit antsy and just feeling creative at the same time and wanting to get together, I started doing a weekly Zoom with those guys just to check in". 
"And then I just told them one time, 'Hey, I'm gonna write something. I'm just gonna play something and send it to you guys. You do whatever you want with it and see what happens and layer on to it", Hetfield continued.
"So that's how we did a version of 'Blackened' (for) 2020. I just basically played something – they hadn't heard it before, they played on it" (quotes transcribed by Metal Hammer)".
More on this here.
Working on music "Very rejuvenating" for Metallica
In a new interview with Zane Lowe for his Apple 1 Music Show, Metallica drummer Lars Ulrich spoke about where the band are at in terms of making a new album.
"I mean, listen, we haven't been out of the house for a year and a half, and so it's very rejuvenating", he said.
"And the last couple, two, three days, as we've played… Played with Miley [Cyrus] yesterday, played with Miley today, you're kind of getting your groove back, getting your spunk back, getting your confidence back, getting the band back together… but listen, I don't know". 
The Metallica drummer continued, "I know everybody's had a different version of obviously the last 18 months. It's impacted all of us in different ways, but sitting still, as you know, is not my forte. And so, just getting out again and getting amongst it is so fucking re-energising. And the last couple of days, like James [Hetfield] said earlier, celebrating the legacy of [the 'Metallica' album] and so on is… It's kind of cool, but still it's a little like, "Okay, well what's about the future?" What about the future? I just get too". 
"Obviously, ultimately, we like the seesaw element of it, the balance, but still, it's like, 'Let's get on with it. Let's go play some shows, let's get on with our fall. Let's hope that we can get through the next few months without anybody going down, keep our fingers crossed. Let's be cautious, let's be respectful of the situation out there". 
"And of course there's new music coming, there's always new music coming. It keeps us alive, you know that… Listen, I wish I could… I mean, of course there's new music, but there's nothing cohesive. There's not a story, there's not anything to really back it up yet".
Back in September, Metallica's "The Black Album" moved back into Billboard's top 10 after sales for the reissued LP went through the roof. More on that here.