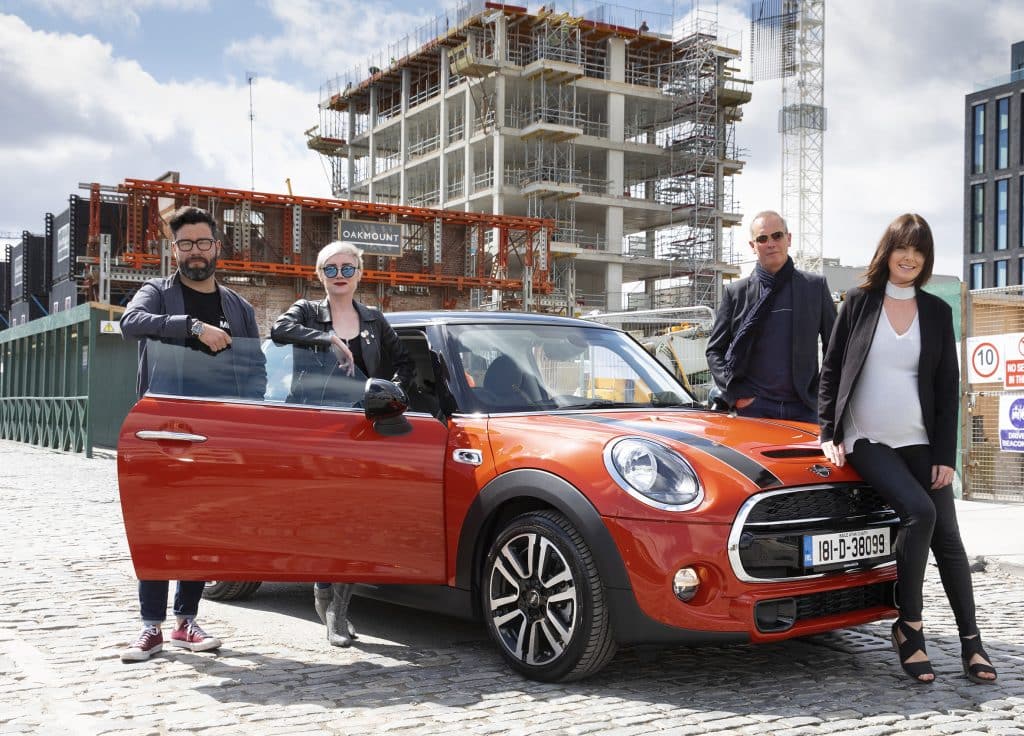 Radio Nova and MINI launched one of the BIGGEST searches for unsigned talent in radio history! And today, they're bringing you their semi-final picks!
This once in a lifetime opportunity sees a €30,000 prize package up for grabs! There's music equipment, mentoring by leaders in the music industry, a publicist and marketing manager for an entire month and a full week's recording in Orphan studios with producer Gavin Glass.
And not alone that, but you'll also have your first single pressed, published AND playlisted on Radio Nova – we might even organise a few gigs if you're lucky!
However, there can only be one winner and with over 400 entrants it was a tough battle for our judges –  Peter, Colm, Austin, Kieran, Gavin, Shauna and Niamh – to whittle the list down to eight!
But alas, they did and to reveal the big news… Drum roll please…
Semi Final 7th June:
1. Drive In Music Club  
Drive In Music Club formed three years ago. Old school buddies, Doug, Jeff and Ivan have been music nerds forever. A mutual friend introduced Buki to the guys, and after goofing in the studio for a while, a new band was born. The band write, record, produce, and mix all of their music. They are very close to having their 10/11 track debut album finished, and expect to have physical copies ready by the end of June. The band also commissioned Epic Productions in Cork to make their first video (for the song "Trouble"). This will be ready for release in late May.
2. Three Underneath
Coming off a plethora of Irish dates, playing support to Otherkin, Paddy Casey and a performance at Electric Picnic '17, Three Underneath are continuing to bring their explosive sound to the masses. Liam and Daragh Murray, with bassist Tom McGovern are said to be peddling a truly unique rock/punk sound, referencing Hüsker Dü, Fugazi and, at times, channelling Nirvana.
Named "Ones To Watch" more than once, performing at Whelan's and Workman's Club showcases throughout the year, the band are putting most of their time right now into writing and recording their debut album. Last summer saw Three Underneath on the road for their first festival tour, performing in Kerry, K-Fest Music & Art and Arcadian Fields, Dundalk.
Musically, it's alt-rock, post-grunge, hyphenated-genre sort of stuff!
3. Inside A Wave
Dublin based five piece INSIDEAWAVE craft a melodic Indie driven sound with nods to contemporaries such as Grizzly Bear, Radiohead and Bell X1. The band formed in 2017 and comprises of Eoghan McGuinness, Mark Geraghty, Nick Fitzgerald, Sean O'Brien and Matt Winston. Their debut release Estuary/Enough came one year later, self recorded and produced in Black Gate Studios.
4. The Zilla
Dublin act making big sounds.
Semi Final 14th June:
5. Sean X
A young Afro-Irish talent based in Dublin finding his voice in the midst of his surroundings.
Inspired by The Weeknd, Michael Jackson and Drake, this R'n'B/Hip Hop creative with a vision to leave his mark (XMTS) on the music scene is a forerunner of the Irish Urban Music landscape. His music encapsulates his passions & experiences through his ability to connect with the listener.
His single, ''Tiptoe'', an agitative pop song expressing the importance of having the right people and energy around him marks the beginning of the journey and the Sean X-xperience.
6. Call Girl
Call Girl is a four-piece band from Dublin with a sound best described as "off-kilter guitar pop". Their songs range from overblown, disco anthems to absurdist, country-twanged critiques of conformity. Formed in 2018, Call Girl consists of former Death in the Sickroom members Mark Heffernan (vocals and guitar) and Devin Griffin (guitar) joined by bass player, Laura Byrne, and drummer, Sean Cooling, formerly of the Dublin based electronic outfit DREWS.
"When The Night Is Over shows that Call Girl have a lot more to offer, there's depth, warmth and a vulnerability about it but showing the same charm as their previous offering. Even though this is a complete flipside to Council Estate it's so obviously the same coin. They seem to have a knack of writing about issues that are so instantly understandable without wrapping it up in sentimental bullshit by having honesty so relatable.
"There's so much charisma about Call girl, something a lot of new bands are lacking, and with 'When The Night Is Over' it's just heightened my interest to see what they will do next." – musician.ie
7. The Southern Fold
Formed in south east Ireland by Kilkenny native Emlyn Holden in 2014 and joined by Dubliner Laura Hand as co-vocalist the following year, The Southern Fold began gigging in earnest performing a number of self penned songs in the alternative folk/country-blues vein.
Their debut EP, 'A True Ascension from the Wayward Path' was released on 28th April, 2016. At this time they brought aboard new members Frieda Freytag (Dave Couse, Fox Owl Crow) on Cello & Piano, Joe Maher (The Mariannes) on Guitar and Rob Campbell (Pine the Pilcrow) on Cello & Upright Bass. This helped broaden their sound and introduce more dynamics to the songs. The band have been busy on the Irish gig circuit playing such venues in Dublin as Whelan's, the Undergroud, the Workman's Club, Thomas House and Bloom in the Park. Also playing venues outside of Dublin like The Watergate Theatre, Set Theatre and Cleere's of Kilkenny, Monroe's of Galway and Kenny's of Lahinch.
At this point, they are putting the finishing touches to the writing of a new album which will hopefully see the light of day in the near future. They are also preparing for some summer gigs including Vantastival and a couple of YouBloom dates.
8. Barnham Statements
Formed in 2016, Barnham Statements is the project of Dublin based songwriter/vocalist Doug Sheridan along with friends/collaborators (Patrick Lyons, Ed Kelly, Gordon Sheridan, John Gillooley, Owen O Mahony)
Doug Sheridan's music has been described as a 'heady mixture of Neil Young and Jeff Buckley with soaring vocals & evocative lyrics' (Hotpress)
His songs have appeared on many TV/Film projects including 'Love/Hate', 'Rubai', 'From The Dark' as well as U.S hit show 'iZombie' and most recently his song was used by Sonnet Insurance an extensive TV ad campaign in Canada.
Sheridan's album 'Songs From Just Outside The House' received widespread critical acclaim with Hotpress describing it as a a "lo-fi tour de force, a world class debut'
After a recent string of successful live shows the group are recording Barnham Statements' debut album which is on track to be complete Aug 2018.
The final will take place on Thursday, June 21st broadcast live on Radio Nova!
But for now, you can check out all the winners over on NovaDiscovered.ie – do it!