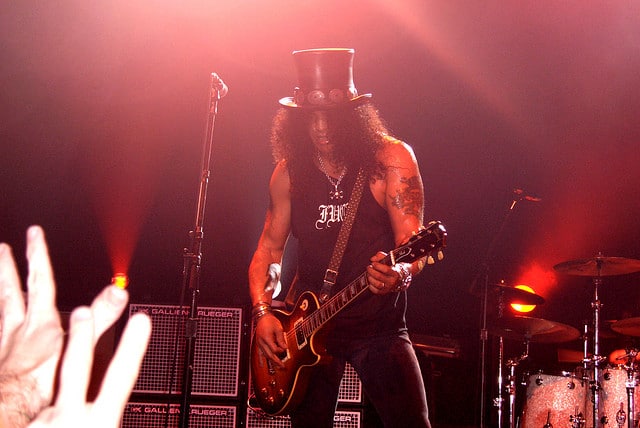 The wait is over – hear Slash's new solo album exclusively here and now.
World On Fire isn't due out for another few days (September 12th) but you can be the first to listen to it by clicking below.
It's Slash's third solo record but his second with Myles Kennedy (from Alter Bridge) and the Conspirators and is produced by Michael 'Elvis' Baskette.
The guitar legend kicks off the European leg of the World On Fire tour at the 3Arena later this year and Slash reckons the new album has the same rawness of World On Fire and Appetite For Destruction. "I think a lot of the rawness comes from Mike Baskette [producer] really knowing what the album should sound like and what we were trying to achieve as a rock band."
Speaking to Loudwire, Slash reckons it's solid: "I think it's a real diverse record. I think it's got a lot of gems on it". When asked what specific track he thinks will resonate with fans, "there's a song that a lot of people who have heard the record really like that surprised me called 'The Dissident'…it's one of those songs that's politically orientated lyrically. It's got a different feel and for some reason, people are calling it really catchy. So that's interesting, we'll see what happens with that."
The 17 track album is a blend of aggressive songs, such as the album's title track, sexual commentary on tracks like' Battleground' and 'Dirty Girl' and the coming-of-age 'Bent To Fly'.
The guitarist added, "World on Fire was also recorded live in the studio but there's overdubs and harmonies — I just wanted to make a more produced record." And where does Slash weigh in on the difference between recording live to tape as opposed to digital? "The main thing is the warmth of the drums and the amplifiers. Capturing that is the main reason for using tape. I know they've tried to make plugins that are supposed to sound like tape, but it's not something they've been able to pull off. Two inches is way better sounding."
Radio NOVA: always the first station with real music news now.
Slash is currently touring with Aerosmith and will kick off his European tour at the 3Arena in Dublin on November 10th.
iTunes pre-order link CD pre-order link
World on Fire track list:
World on Fire
Shadow Life
Automatic Overdrive
Wicked Stone
30 Years to Life
Bent to Fly
Stone Blind
Too Far Gone
Beneath the Savage Sun
Withered Delilah
Battleground
Dirty Girl
Iris of the Storm
Avalon
The Dissident
Safari Inn
The Unholy