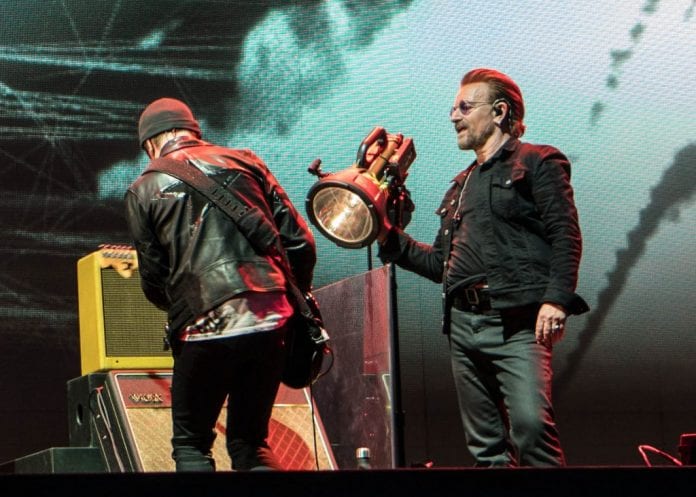 Woah – drumroll please…
Radio Nova are set to give listeners the opportunity to hear the new U2 album 'Songs of Experience' before it's released to the general public.
But because we're generous folk, that's not the only news we have for you today…
Nova will be one of the first stations worldwide to host a pre-release listening party which will take place at a top secret location in Dublin on Thursday, November 23rd.
Security at the event will be strict and patrons attending will only be told of the location hours before it takes place.
https://www.instagram.com/p/Bbp8VYxDVOC/?taken-by=radionova100
So far 12 Radio Nova listeners have qualified to attend the event, however, one of them is in for a major surprise.
Once the soiree is heading to a close, one listener will win a trip to LA to attend another pre-release listening party, except this time U2 will be hosting!
One lucky winner will fly to LA, listen to the album with the band and have a meet and greet in a secret Hollywood location.
Radio Nova's Programme Director, Colm Hayes, has commented: "We've been working behind the scenes with U2's management and record company."
"Radio Nova is the station for U2 in Dublin and I think this proves it. The album is going to be a real surprise and it's amazing that we can let our listeners hear it before any other radio station in the world."
Don't forget – if you want to EXPERIENCE the new @U2 album 'Songs of Experience' in LA & meet 'n greet with the band. Your chance to WIN continues this week on @radionova100 100.3FM! Tune in now!!! #nova #U2SongsofExperience pic.twitter.com/Qi3F6Fdsfi

— Radio Nova 100 (@radionova100) November 20, 2017
When questioned about the location, Hayes revealed: "The actual location will only be known by a handful of trusted people who are under oath not to disclose any details."
Well if this doesn't excite you, we don't know what will! Get tuning into Radio Nova now!
It really is the full U2 experience – the Nova way.
Feature Image: U2start