You can now play The Nova Noise THREE times a day: 8am, 11am and 5pm every weekday on Radio Nova and each day it's not guessed we will add €50 to the jackpot!
Every Monday…there will also be a clue to help you guess the noise! We don't know when we are getting these clues, but we do know that someone called "The Caped Clue-sader" will be arriving to help you win the cash with the Nova Noise on Radio Nova.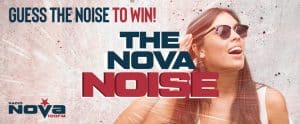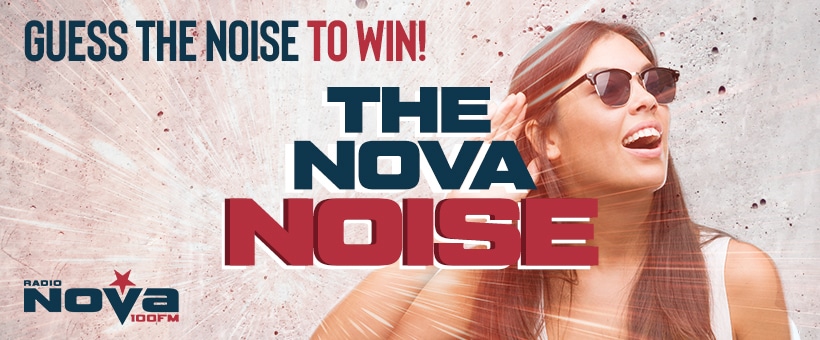 Listen to the noise here & if you think you know what it is, just call 440 4100 when they say on air for your chance to guess & win.
THE JACKPOT IS WORTH €3,400!
CLUES FROM THE CAPED CLUE-SADER SO FAR…
On from the outside
What was off is back on
INCORRECT GUESSES SO FAR…
Cleaning golf balls
Opening the top of a Kleenex box
Scraping choppings into a bin
Shuffling Post-It notes
Taping cardboard box
The start of the virtual horserace
Pulling a scratch card off the reel
Central door locking mechanism
Taking the lid off a tub
Opening a new tube of toothpaste
Shaking a box of "Celebrations"
Money counting machine at the bank
Boiling kettle
2 horses with a carriage on the streets of Dublin
Cat doing it's nails on a scratching post
Opening a brown envelope
Opening a folder and putting paper into it
Peeling a carrot
Empty toilet roll spinning
Laminating machine
Chewing on cornlflakes
Wheel on a computer mouse
Re-coiling hoover cord
A horse
Grating a carrot
Crunching cardboard
Lintroller
Breaking up an egg box
Opening a cardboard box
Old credit card machine
Opening a box of tea bags
Opening a cardboard box from delivery driver
Hamster in the wheel
Box of coffee capsules being opened
Cutting cabbage
Shuffling a deck of cards
Paper towel rail dispenser in public toilet
Key going into a lock and turning
Walking on snow
Chopping up an onion
Circular towel rail dispenser in public toilet
Putting dry items into a paper cup
Rubik's cube
Taking down an umbrella and shaking the water off
Pulling roller blind up and down
Muffled boom microphone in the wind
Opening a roll of Sellotape
Squeezing an empty bottle of ketchup
Parcel being an open (maybe an Easter Egg)
Sealing a box with tape with handle
Changing a sheet on a bed and flattening out with a hand
Somebody scratching styrofoam with nails
Somebody tap dancing with plastic bags on their feet
Pulling hair off a hairbrush
Lettuce/salad spinner
Weaving machine
Flag (or stag!) blowing in the wind
Folding down flaps on a cardboard box
Wall-mounted soap dispenser
Bag of spuds or packet of chrisps rustling
Plastic bottles being shuffled
Cardboard cutter going through a cardboard box
Toilet roll spinning on the holder
Someone rubbing feet off a mat
Someone buttering toast
Someone crumbling or breaking up cardboard
Pressing a lever on a hand santiser dispenser
Rewinding a cassette tape and pressing eject
Putting needle on a record
Someone wrapping their fingers/knuckles on a table
Someone hitting a speed ball in the gym
Someone scraping toast
Taking laundry tablet out of clickable box
Pulling from a roll of cling film
Removing a cup from a dispenser
Opening a parcel with tape with a sharp object
Pulling the cardboard pull off from an Amazon package
Picking bingo balls out of a barrel
Cat scraping against some cat litter
Shuffling through a Filofax
Scoring cardboard with a pencil
Cutting or scratching at a block of styrofoam
Shuffling cardboard
Re-racking balls on a pool table
Tent flapping in the wind
Cutting cardboard with scissors
Chopping lettuce
Dog using his paw scratching something
Old record machine changing records
Putting paper into a printer draw
Squishing a plastic bottle
Pushing the button on an ice dispenser on a fridge & collecting the ice in a plastic bag
Scraping out a yogurt carton with a spoon
Fossball table
Someone counting money
Twisting the lid off a coffee jar
Tune in a transistor radio
Creating a pizza box
Computer mouse wheel
Pulling tissues from a tissue box
Hail stones hitting the window or Hue's son kicking a window!
Dropping a sack of spuds on a table
Putting something into a swing lid bin
Cutting vegetables on a chopping board and scraping them into a bin
Refilling cups at a water cooler and the cups dropping down
Car rolling over loose stone or gravel
The crumpling of a take away paper bag
PJ cleaning his headphones and/or microphone
Kids playing with "poppers"
Putting a knife through dry foam
Scratching the dashboard of car with nails
Pushing the rubbish into a wheelie bin
Somebody sweeping carpet with dustpan & brush
Opening a bag of bread soda with a pair of gloves
News reader shuffling a bunch of A4 sheets of paper
Ship sails being put up
Getting money from the ATM
Testing the microphone with fingers
Shaking a wet umbrella
Army getting ready for a March
Cornflour being crunched
The metal latch on a shed
Lotto balls spinning in the drum
A pepper or salt grinder
Flicking through a phonebook
Plastic bag hanging out the car
Squishing Styrofoam cups
Wipers on frozen windscreen
Stuffing your face with crackers
Emptying a bag of apples onto a table
A horse hoofing around in a stable
Bread slicing machine
Onions being chopped
Box falling down the stairs
Trying to lock the door of a toilet cubicle
Opening a new shoe box with tissuepaper inside
Rubbing a rubber dogs balls
Pumping a "Super Soaker" watergun
Chopping iceberg lettuce
Kernels popping in a pot
Flicking through a phonebook
Opening a Covid testing kit
Machine collating mail
Wrapping paper being cut by scissors
Pulling dog poo bags off the roll
Taking the foil off the top of Pringles
Brushing off bread crumbs from a bread board with your fingers
Lino falling to the floor
Pulling the drawsting on a bag of spuds
Paint roller rolling on a wall
Video cassette being ejected
Video cassette going into the machine
Dropping a mobile phone
Noise of the gear stick going through the gears
Apples tumbling
Retracting a power cord on a vacuum
Using a rubber to rub something out in a book
Changing a printer cartridge
Slicing and dicing a turnip
Tearing perforated paper
Muffeled pocket call
Shuffling through a vinyl collection
Caterers tin foil
Throwing shoes into a box
Dog scaping at the door
Passenger sitting in a car shaking the map
Putting something through security at the aiport
Popper Fidget Toy
Ruffling the blind on a door and lifting the handle
Screwing in a fuel cap
Cat flap after cat goes through
Pushing a package through a letterbox
Golf balls falling from a machine on the driving range
Seat belt getting stuck in the holder
Chip making machine
Putting on a duvet cover
Cutting a pepper
Pulling a face mask from the box
Chopping scallions
Chopping cucumber
Snapping a glow stick
PJ taking his helmet out of his pannier
Using a spoon to scrape out ice cream from a container
Cutting a pepper (on a chopping board!)
Opening a birthday card envelope
Sharpening the pencil at the bin
Door of a cargo plane closing
Chopping carrots on a chopping board
Chopping celery
Frozen bag of mixed veg being dropped on a bench
Sack of potatoes being dropped in the sink for a wash
Winding up a car window
Opening an envelope with your hand
Chewing a hard boiled sweet
Opening and closing ceral box
Wheels of luggage wheels going down steps
Twisting open a plastic container
Chopping garlic on a wodden chopping board
Unscrewing a cap on a coffee jar
Walking in deep snow
Flicking through LPs
Bowling ball being return
Taking off and putting on Marigold gloves
Match being taken from the box at striking the box
Slot machine
Going over a speed hump
Someone biting something
Food processor
Insinkerator
Box of eggs being shaken
Ripping open a parcel
Taking paper towel from a dispenser or tissue box
Stamping on a cardboard box
Opening a parcel with a knife
Ripping the sides of a cardboard box
Re-racking the pins in ten pin bowling
Electric weighing scales
Opening a pizza box and taking a slice and closing the box
Pulling tissues from a tissue box
Buttering toast
Seat belt retracting
Emptying a dust pan and brush into a bin
PJ opening and closing his helmet visor
Sharpening a blade on a leather strap
Pulling tin foil from the dispenser on the wall
Pulling up carpet
Wheeling a suitcase over studs on the footpath
Opening a FedEx package
Counting money
PJ running his stubble across the microphone
Pulling the cardboard tab off a Happy Meal
Cloth rubbing on a microphone
Straightening up A4 paper
Cutting a crusty loaf
Opening a pay packet
Pulling the studs on a jacket
Turing a tombola box
Windsurfing
Banknote counting machine
Clint tapping knuckles on the desk
Hanging a coat or jacket on the back of a door
Chopping potatoes
Box of malteasers being shaken
Cutting piece of wood with a hacksaw
Loading paper into a typewriter
Guillotine
Tapping on a table
Puppy in a cardboard box
Lint roller
Pocket call
Writing with a pencil on paper
Popcorn
Replacing a petrol pump nozzle
Reeling in an extendable extension lead
Potatoes tumbling down the stairs from a bag
Somebody chomping on nuts
Crunching snow
End of a toilet roll
Shaking food in an air fryer
Bird flapping it's wings
A newspaper printing press
Tearing open the tab on a cardboard box of washing powder
Twisting the lid of a thermos flask
Balls being released on a pinball machine
Apples being poured out of a bag
A mobile phone bum-call
Someone scratching their chest through a jumper and bumping off a microphone
Someone falling over boxes
Opening or twisting a gym water bottle
Running on a treadmill
Chalk
Marbles spinning on a floor
Someone throwing a cardboard box downstairs
Someone shuffling through cassettes in a record shop
Opening a gift in wrapping paper
Table football
Pressing play & record on a cassette tape
Rustling around in cardboard
A toaster refusing to go down
Popcorn in a paper bag in a microwave
Sellotape ripped coming off a parcel
Tuning a radio
Horse turning on a track
Picking up dirt with a dustpan & brush
Cutting wall paper
Throwing a bag of carrots on a table
Thumbing through records
Rubbing football studs against each other to clean them
Re-packing a vinyl record
Card going into a hotel door lock
Putting something into a filing cabinet
Shed door
Shaking a box with something inside
Pressing a lift button
A brush bumping off a spring loaded doorstep
Screwing the top of a detergent bottle on or off
Someone flicking through files
Pulling polystyrene from a box
Beaver chomping on wood
Putting a parcel in a postbox
Old fashioned grater
Paper being fed through a photocopier
Turning the taps in a shower
Sieving soil
Trying to put a plug in a socket behind a bed
Bingo balls in a machine
Cat clawing it's way out of a litter box
Skipping with rope
Business cards being dropped on a carpet floor
Turning a petrol cap
Landing a parachute
Sharpening a pencil with a knife
Animal door closing
Collection bucket being shaken with coins in it
Putting a petrol cap back on.
Shuffling a ream of paper before putting it into a printer
Strumming fingers on the dashboard
Pulling polystyrene out of a cardboard box
Hole punch
Broom over a doorstop
Someone putting their shoes on
Using a spray bottle
Emptying a hand held vacuum cleaner bag
Tipping a load of letters & parcels into a letterbox
Shaking ice cubes out of their tray
Box of chocolates being opened and shut
Knocking the microphone on a mobile phone
Chopping celery sticks
Cutting pizza with a pizza slicer in the cardboard box
Retractable air hose in petrol station
Putting headphones into a docking station
Sanding down a block of wood
Chopping scallions
Shaking balloons on a string
Shopping trolly going over a bump
Tennis balls being ruffled
Popping popcorn in the pot
Man sawing some wood
Roman blinds dropping down
Someone shaking a golf bag
Sounds of the sea hitting the shore
Pulling paper towel
Getting the excess paint of the roller
Spreading jam on toast
Rummaging around a drawer
Shuffling through a filing cabinet
Taking tin foil out of a box
Rinsing the delf
Cardboard boxes falling off a shelf
A flag being hoisted up a flagpole
Empty toilet roll spinning on the holder
LP going in and out of the sleeve
Printer "gasping" for an envelope
Mandolin being used to slice vegetables
Breaking up a cardboard box
Dropping a plastic bowl
Cleaning shoes on a doormat on your way in
Franking machine franking letters
Scanner scanning documents
Shoe press
Shaking open a plastic bag
Sweeping stuff into a long-handled shovel and clicking the brush into the holder
Getting into the car and messing with stuff
Chopping cabbage with a knife
Shuffling papers
Bunting blowing in the wind
Pulling toilet paper out of a dispenser
A golf club going back into the golf bag
A circular sock-knitting machine
A vending machine refilling after dispensing a can
Chopping up an apple
Defrosting a freezer with plastic scraper
Screwing the lid off a jar
Chopping a head of iceberg lettuce
Straightening out a ream of paper on a desk
The doors closing on a CD or DVD player
Scraping the last bit of butter out of the tin
Loading potatoes from a weighing machine in a fruit & veg shop to a paper sack
Opening or shaking a bag of popcorn
Golf ball washer
Luggage coming off the conveyor belt
A couple of letters coming through a letterbox
An ATM taking in a card
Paper jamming in a printer
Cutting bread with a bread knife
Stacking polystyrene cups
The cord being pulled back in on the vacuum cleaner
Troweling cement for bricks
Rolling up card or paper
Shaking battling ropes in a gym
Marching soldiers coming to a halt
Using an old fashioned toilet roll dispenser
Baby shuffling around in a walker
Pulling out the drawer of a freezer
Turning a Rolodex
Pulling up roller blinds
Boiling eggs
Putting a paper document into a mailing tube
Scaping the last butter out of the dish with a knife
Pulling the twine out of the top of a sealed multiwall bag
Pulling a page from a ring binder
Stone being sucked up by a hoover
Digging in the garden
Rolling out wallpaper
Pulling the veg drawer out of the fridge
Sweeping down decking
Petrol cap being put on
Cup going under a coffee machine
Spinning the handle on a football table
Clearing air blockage in a tap
Wiping feet on a mat
Old bread bin
Shaking an umbrella after rain
Horse walking on sand
Cardboard box being folded
Straightening cards
Lifting the door handle on a pvc door to engage the lock
A kettle boiling
A loo roll spinning on its holder
The flex automatically recoiling into a hoover
Pumping an empty hand sanitiser
A horse running through dry leaves
Pushing food back in the freezer
Bag of crisps rubbing off yourself
Pulling the flap off a cardboard box
Using a desktop pencil sharpener
Shaking chips in the basket of an air fryer
Emptying a bag of chocolate bars onto a table
Flicking through pages
Scratching a scratch card
Guinea pig or rodent chewing on a vegetable
Crushing nuts in a bag with a rolling pin
Putting something in the glovebox
Using the handle on an emergency exit
Pot boiling
Stacking CDs
Answering phone in your pocket
Brushing Venetian blinds
Unscrewing the top of a milk carton
Using a dust pan and brush
Putting notes into a money counter
Seat belt locking into place
Eskimo kiss on a microphone
Lifting the needle off a record
Moving dice game counters along a board
Plugging a guitar lead into an amp
The tipping point game
A horse running on the sand
Ice being poured into an ice bucket
Ice being picked
A carton of eggs being shaken
Tipping spuds into the fridge drawer
Running on a treadmill
Spinning suitcase wheels with your hands
Chopping cabbage with a stainless steel knife
Cleaning mud off a pair of shoes
Scraping out a yoghurt pot
Scraping butter from a nearly empty tub and putting it on toast
Wooden barrels
Tipping spuds out of a bowl into the sink getting ready for dinner
Chopping lettuce on a board
Michael Flatley doing a little tap in the background while his missus is knitting the kids school jumpers on her knitting machine
Soldier standing to attention
Headphones getting caught
Filling public toilet, toilet roll holder
Rolling dough or pastry with a rolling pin
Putting coin into a pool table and the balls releasing
Tearing a page out of a book
A box of chocolates with a plastic liner being emptied onto a table
Placing the top onto a takeaway coffee cup
Undoing the flex from under a kettle
Pushing a straw through a plastic lid
Turning knob skimming across radio stations
Separating paper coffee cups
A turnstile in the Phoenix Park
Air coming out a vent on the side of a building
Opening curtains
Trolley going back in a trolley bay
Emptying a small portable hoover
Unzipping the lid of a cardboard washing powder box
Crushing snow
A rabbit in a box
Dusting off crumbs
Spinning mop bucket
Soldiers starting to march in their boots
A four track cassette tape being wound up with a pencil
A dog in a cardboard box
Old fashioned tin opener
Typewriter
Re loading the pins at a bowling alley
Sucking ice from the end of a drink cup
Shuffling a seatbelt that's a bit stuck
Soldiers shuffling their feet before a salute
Stones crunching underfoot
Slinky coming down the stairs
Chopping veg with a frying pan
Someone scratching inside a cardboard box
A skateboard
Eating a bowl of cornflakes
Wiping feet on a doormat
Tapping fingers on a cardboard box
Cutting cardboard with a knife
Emptying the paper bin
Brushing your teeth
Lawnmower catchment box
Bread maker
Boxing punchbag
Spreading jam on toast
Taping up a box with a tape gun
Putting money into a wallet
Batteries going into recycling
Compressor going into a tyre
Dusting down a keyboard on a computer
Drumming two plastic bottles on a table
Opening shopping bags in a trolley
Tennis ball machine
Carboard box being pushed onto rollers of a conveyor belt
Typing really fast on a keyboard
Changing the coffee in the grinder at Costa
Dragging a phone cable across the table
Luas
Cat going through a cat flap
Spinning toilet roll
Emptying apples into a bin
Rotating the batteries in a remote
Using a salad spinner
Coffee grinder grinding beans
Foot pedal on a jack
Horse on the gallops
Blowing bubbles through a straw
Dog crewing a microphone
Bottle of water rolling
The car wash brush coming down on the car
A tennis ball serving machine
A tin opened opening a tin
Horses galloping
A pencil being sharpened with a microphone close up
Rolling up a poster
Horse eating a carrot or apple
Emptying the recycling bin
Sewing machine
Cat covering it's business in a cat litter tray
Packet of crisps getting stuck to the box
Turning a pepper grinder out of a box
Rattling frozen food
Revolving door
Bird walking on a flatroof
Someone brushing a microphone
Stuffing plastic back into a cereal box
A ring binding machine working
Riffling through the pages of a phone book
Blowing on a microphone and tapping it with fingers
Putting a shoe into a paper bag
Re-coiling hoover cord
Tearing a sheet off baking paper
Scraping toast
Shaking a bag of apples
Tap dancing on a wooden board
Searching through multi CD binder
Counting out the Nova Noise prize money onto a table
Toy animals bumping around in a dryer
The lever on an airplane seat for moving the seat
Washing a chopping board
Writing on a desk
Forcing a barrel lock on a gate
Twisting or walking on bubblewrap
End of playing a vinyl record
Pricing gun
Adjusting the mirror of a car
Pushing a BBQ across a deck
An intercom at the door
The ball-cleaner on a golf course
Putting on your headphones
A kite flying
Breeze blowing through blind pull
A camera shutter on high speed
Book binding machine
Bag of apples dropped into a fruit bowl
Changing CD's in CD player
Ripping open a box of teabags
Horses taking a jump
Windscreen wipers
Putting something into an envelope
Kick starting a motorbike or scooter
Chopping parsley
Tissues being pulled out of a box
A seatbelt being fastened
Soldiers coming to attention
Slurping the end of a drink through a straw
Horses on courses
Ring binder clasp opening and closing
A turnstile at a football match
Starting up an old sowing machine
A wire brush against a carpet
A window blind being opened
A pair of runners in a tumble dryer
The arm of a record player lifting up after the record finishes and swings back.
Brushing off the cape at the barbers
Opening post/letter
Walking on dry snow
Chain black pulley
Grating cheese
Pulling the last tissue from a cardboard roll
Painting the outside of a shed with a roller
Someone taking off boots after walking through the snow
Tying twine around a cake box
Rain hitting a galvanised iron roof
Raindrops hitting the windowsill
Folding a pram
Garden hose uncoiling
Lapel mic
Shoe polish
Pulling cling film from the roll and cutting it
Doing tricks or flipping over a skateboard
Turn the knob on the car air con
The flaps on the vent of the air conditioner
Pushing the washing line up
Putting on a rubber glove
Car driving on a flat tire
Changing a duvet cover
Taking a blue mask out of a box
Putting a backpack on
The lotto balls falling into the drum
A fabric cover going on to a bike
Rubbing fingers on the outside of a balloon
Someone brushing something off a coat
The canopy over the decking of a house
Taking off the jacket and putting it down on the chair
Taking off the lid of a travel mug
A branded vehicle being wrapped
Opening the dairy section in the fridge door
Getting something out and closing it
A car-roof box closing
Putting a cover on a duvet
Long vehicle driving over a manhole
Taking Christmas lights out of a box, untangling them
Opening a parachute
Taking on and off a coat
Robotic lawnmower going back to its dock
Putting the petrol cap back on a car
Putting on a raincoat
Opening a pack of bread
A water sprinkler
Taking the paper sleeve out of an album cover, putting the record into it and putting the sleeve back into the cover
A bus ticket machine issuing a ticket
A car roof-rack being put on
Putting on coal onto a fire
A spider-catcher
A parking machine issuing a ticket
Stitching on a patch with an electric sewing-machine
When you turn the heat on and the outside boiler kicks in
Putting the card into your gas meter
Winding a garden hose back onto the reel
Ariel put back on a car
Pulling up a zipper
Loading the clothes in the washing machine drum