They're here! Cereal messers PJ Gallagher and Jim McCabe are now part of the team in Nova Towers with 'Morning Glory' every weekday morning.
The lads have all your news, sport, weather & traffic covered… plus great craic and the most seriously addictive music in town!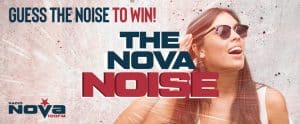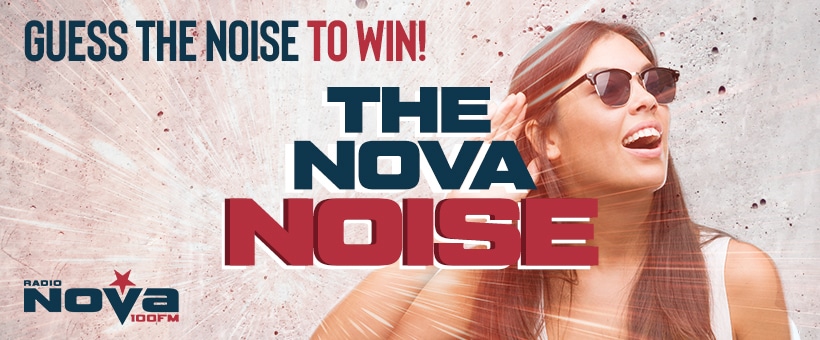 They are also the only lads that let you play the NEW NOVA NOISE just after the news at 7am and 8am each weekday morning.
Listen to the noise here & if you think you know what it is just call 440 4100 when they say on air for your chance to guess & win.
THE JACKPOT IS NOW WORTH €1250!
INCORRECT GUESSES SO FAR…
2 horses with a carriage on the streets of Dublin
Cat doing it's nails on a scratching post
Opening a brown envelope
Opening a folder and putting paper into it
Peeling a carrot
Empty toilet roll spinning
Laminating machine
Chewing on cornlflakes
Wheel on a computer mouse
Re-coiling hoover cord
A horse
Grating a carrot
Crunching cardboard
Lintroller
Breaking up an egg box
Opening a cardboard box
Old credit card machine
Opening a box of tea bags
Opening a cardboard box from delivery driver
Hamster in the wheel
Box of coffee capsules being opened
Cutting cabbage
Shuffling a deck of cards
Paper towel rail dispenser in public toilet
Key going into a lock and turning
Walking on snow
Chopping up an onion
Circular towel rail dispenser in public toilet
Putting dry items into a paper cup
Rubik's cube
Taking down an umbrella and shaking the water off
Pulling roller blind up and down
Muffled boom microphone in the wind
Opening a roll of Sellotape
Squeezing an empty bottle of ketchup
Parcel being an open (maybe an Easter Egg)
Sealing a box with tape with handle
Changing a sheet on a bed and flattening out with a hand
Somebody scratching styrofoam with nails
Somebody tap dancing with plastic bags on their feet
Pulling hair off a hairbrush
Lettuce/salad spinner
Weaving machine
Flag (or stag!) blowing in the wind
Folding down flaps on a cardboard box
Wall-mounted soap dispenser
Bag of spuds or packet of chrisps rustling
Plastic bottles being shuffled
Cardboard cutter going through a cardboard box
Toilet roll spinning on the holder
Someone rubbing feet off a mat
Someone buttering toast
Someone crumbling or breaking up cardboard
Pressing a lever on a hand santiser dispenser
Rewinding a cassette tape and pressing eject
Putting needle on a record
Someone wrapping their fingers/knuckles on a table
Someone hitting a speed ball in the gym
Someone scraping toast
Taking laundry tablet out of clickable box
Pulling from a roll of cling film
Removing a cup from a dispenser
Opening a parcel with tape with a sharp object
Pulling the cardboard pull off from an Amazon package
Picking bingo balls out of a barrel
Cat scraping against some cat litter
Shuffling through a Filofax
Scoring cardboard with a pencil
Cutting or scratching at a block of styrofoam
Shuffling cardboard
Re-racking balls on a pool table
Tent flapping in the wind
Cutting cardboard with scissors
Chopping lettuce
Dog using his paw scratching something
Old record machine changing records
Putting paper into a printer draw
Squishing a plastic bottle
Pushing the button on an ice dispenser on a fridge & collecting the ice in a plastic bag
Scraping out a yogurt carton with a spoon
Fossball table
Someone counting money
Twisting the lid off a coffee jar
Tune in a transistor radio
Creating a pizza box
Computer mouse wheel
Pulling tissues from a tissue box
Hail stones hitting the window or Hue's son kicking a window!
Dropping a sack of spuds on a table
Putting something into a swing lid bin
Cutting vegetables on a chopping board and scraping them into a bin
Refilling cups at a water cooler and the cups dropping down
Car rolling over loose stone or gravel
The crumpling of a take away paper bag
PJ cleaning his headphones and/or microphone
Kids playing with "poppers"
Putting a knife through dry foam
Scratching the dashboard of car with nails
Pushing the rubbish into a wheelie bin
Somebody sweeping carpet with dustpan & brush
Opening a bag of bread soda with a pair of gloves
News reader shuffling a bunch of A4 sheets of paper
Ship sails being put up
Getting money from the ATM
Testing the microphone with fingers
Shaking a wet umbrella
Army getting ready for a March
Cornflour being crunched
The metal latch on a shed
Lotto balls spinning in the drum
A pepper grinder