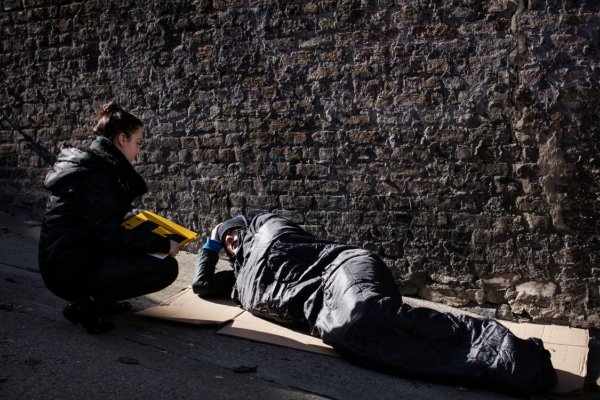 The Peter McVerry Trust says that the response to Storm Emma was a major factor in the reduction of rough sleeper numbers.
Their joint effort with the Dublin Region Homeless Executive allowed them to secure accommodation for an extra sixty people.
New figures show a 40% reduction in the number of people sleeping rough in Dublin, the biggest drop since 2007.
The CEO of the Peter McVerry trust Pat Doyle also denies that the latest rough sleeper figures are being 'sugar coated' after 74 fewer people were counted sleeping rough in Dublin last month compared to the end of 2017.
However Inner City Helping Homeless claims the figure doesn't 'reflect reality' and needs to be examined further.
A significant contribution to the fall in rough sleeping was made by the Dublin Housing First team, which is jointly delivered by Focus Ireland and the Peter McVerry Trust.
This programme has supported over 200 people with very long experience of homelessness to move out of homelessness and secure their own independent tenancies. We are working closely with the DRHE on a daily basis to support more people to take this step.
Focus Ireland welcomed the fall in the number of people sleeping rough as reported in the Dublin Spring 2018 Rough Sleeping Count. The minimum number of people sleeping rough fell from a record of 184 on the 7th November 2017 to 110 in April 2018.
"This reduction reflects the enormous efforts of The DRHE and homeless Organisation and volunteers over one of the longest and hardest winters for generations,' said Pat Dennigan, CEO of Focus Ireland.
"While 74 fewer people sleeping rough in Dublin is very welcome, it must also be recognised as disappointing, given that 200 new emergency homeless beds were provided over the same period.'
'The fact that the city can open 200 new emergency beds over six months and only see rough sleeping fall by only 74 people is a stark indication of how deep the housing and homeless crisis has now become."
'We are back to the level of rough sleeping recorded three years ago (105 in Spring 2015), but nationally we have thousands of people living in emergency accommodation across the country, a record 9,807 people including 3,755 children."