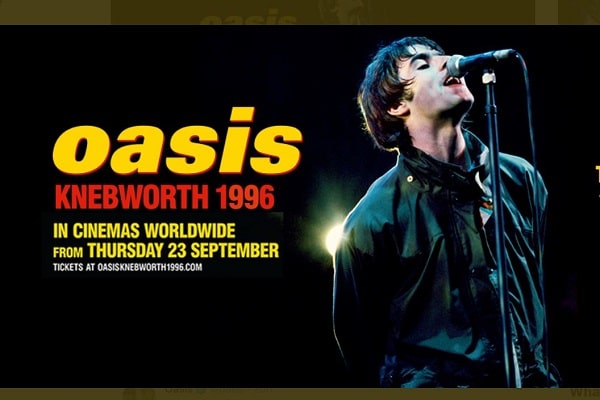 Previously unseen footage of Oasis singing "Wonderwall" from the Saturday night of their Knebworth gigs from August 1996 has been released. You can check it out below.
This footage was taken from the documentary "Oasis Knebworth 1996". This will be released on November 19. 
This film celebrates 25 years since Oasis played those two iconic shows at the famous venue in August 1996. The documentary also contains previously unseen archival footage from backstage of the gig. It will also feature interviews from the band and attendees alike.
Directed by Jake Scott, Oasis Live At Knebworth hit the cinema screens on September 23. The concert broke a UK record at the time as they were sold out within 24 hours. 2% of the entire UK population have attempted to buy tickets.
It was also the highest grossing documentary of 2021.
Oasis have already released footage of the band singing "Live Forever" at Knebworth.
Oasis "Wonderwall" Live At Knebworth
Along with the footage, an audio version also featured on streaming services. It will also feature on a live album "Oasis At Knebworth 96".
This live album is released digitally on CD and triple LP on November 19 via Big Brother Recordings. Pre order it here. 
On the concert, Oasis' Liam Gallagher said this in a statement, "Knebworth for me was the Woodstock of the 90's".  He also added, "It was all about the music and the people. I can't remember much about it, but I'll never forget it. It was Biblical". 
"I can't believe we never played 'Rock 'n' Roll Star!", Noel weighed in.
Speaking of "Wonderwall", the famous tambourine that was used by Liam Gallagher to record the iconic tune was sole at an auction. "Wonderwall" featured on the Oasis album "(Whats The Story) Morning Glory?".
"It was pretty battered by the end of the session and was going to be thrown away. But I claimed it", said engineer Nick Brine who took the tambourine for himself after the band finished recording the album.
The instruement was sold for £3,600 to an internet bidder who wanted an "opportunity to own a slice of British rock history".