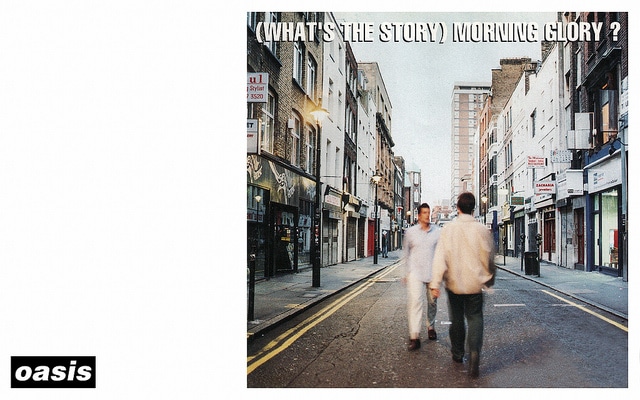 (What's the Story) Morning Glory? is the second studio album by the English rock band Oasis with Creation Records.  Owen Morris and the group's guitarist Noel Gallagher produced the record that was released on October 2nd 1995.
The style of the album contrasts significantly from the group's previous record Definitely Maybe. The album is filled with big, glorious ballads instead of raw rockers and there is a nice variety of instrumentation which allows a range of emotion to be expressed throughout the record. There is a stark contrast in Liam Gallagher's voice compared to the previous album. We hear more emotions and texture in his voice which is nice.
(What's the Story) Morning Glory? sold a record-breaking 347,000 copies in its first week on sale, spent 10 weeks at number one on the UK Albums Chart, and reached number four in the US Billboard 200.
The record propelled Oasis to success and according to some critics was a significant record in the timeline of British indie music. Some of the bands best known songs feature on this album 'Some Might Say'; 'Don't Look Back in Anger'; 'Champagne Supernova' and 'Wonderwall'.
After some criticism, opinion reversed especially years on and now (What's the Story) Morning Glory? is generally considered a seminal record of both the Britpop era, and the 1990s in general. At the 1996 Brit Awards, the album won Best British Album. As of this year it has sold approximately 22 million copies worldwide, and appears on several lists of the greatest albums in rock music.
Photo Cred: Lawren