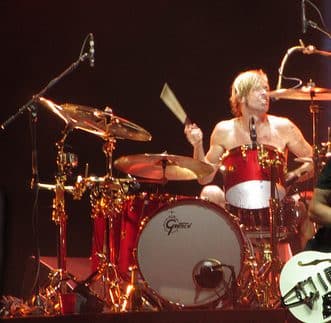 During a Foo Fighters concert in South America, the band turned the chants of 'Ole Ole Ole' into a special one off tune.
We're a little disappointed Dave Grohl and the lads didn't come to us first but maybe we'll get a chance to create our own 'Ole Ole Ole' impromptu track at Slane Castle later this year.
Last week, the American rockers were playing a gig at the Pista Atletica Estadio Nacional, in Santiago, Chile.
As the show kicked into full swing the effervescent crowd began chanting 'Ole Ole Ole! Chile! Chile!', to which the frontman responded to by playing a new riff and singing along.
Grohl told the crowd: "So here's the thing, you guys sing every song before I even sing it. Nobody else in the world does that, I think that's some Chilean s**t, I don't know what that is."
While the Chilean fans chanted and the band played, Grohl said: "OK, we got a new Foo Fighters song."
Check out the new Foo Fighters song 'Ole Ole Ole' below.
Foo Fighters' 'Sonic Highways' tour lands on Irish shores in May. The group are playing Slane Castle with Hozier and Kaiser Chiefs. Dave Grohl and the lads previously played Slane in 2003, supporting the Red Hot Chili Peppers.
Foo Fighters play Slane Castle on May 30th 2015. Tickets are still available priced €79.50 inclusive of booking fee.