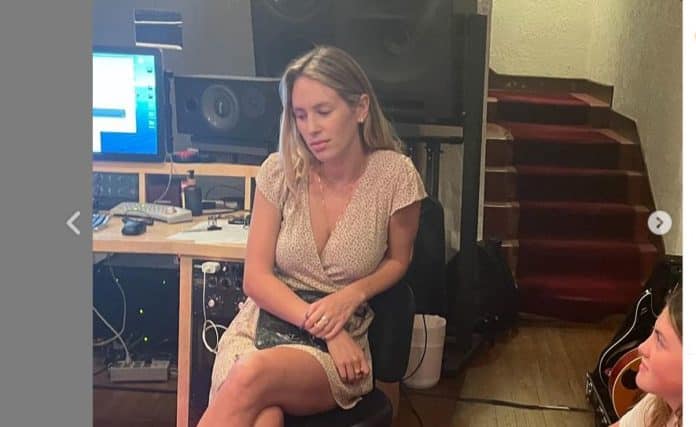 Eddie Vedder's daughter Olivia has released a new song called "My Father's Daughter". This track will be used in Sean Penn's upcoming film "Flag Day".
The song is also a ballad led by heavy piano, as Olivia Vedder sings about strong familial ties. The lyrics run like this, "They asked if I had seen you/But I've got no truck with men/Like them, they can go to hell/I am my father's daughter/Come hell or high water".
The track's music video also features scenes from Flag Day. Check it out below.
The song has also been co-written by Olivia's father Eddie Vedder and Glen Hansard. Eddie and Glen have collaborated on eight new songs for the Flag Day soundtrack, with "My Father's Daughter" being one of two songs that Olivia sings overall.
Eddie Vedder and Glen Hansard also worked with Cat Power on a number of tracks.
Vedder himself has been very busy. Earlier this month, Tom Morello released a cover of AC/DC track "Highway To Hell" featuring Eddie Vedder alongside Bruce Springsteen. Check that out here.
"the perfect cherry on top of the sundae"
In a statement, Sean Penn spoke very highly of Olivia's contribution to the film soundtrack. The actor hailed it as the "perfect cherry on top of the sundae".
"After this flood of gorgeous songs from Cat Power, Glen Hansard, and Eddie Vedder, we were just about to do a final mix on the film when Ed sent me Olivia singing 'My Father's Daughter.' It became just the perfect cherry on top of the sundae", Penn said.
Both the movie and the soundtrack are to arrive on August 20.
Flag Day will see Sean Penn starring alongside his sons Dylan and Hopper. It will also feature Josh Brolin, Bailey Noble, Katheryn Winnick, Dale Dickey, Eddie Marsan and Norbert Leo Butz.
Brolin and Penn had previously worked together on the the 2013 action thriller Gangster Squad.