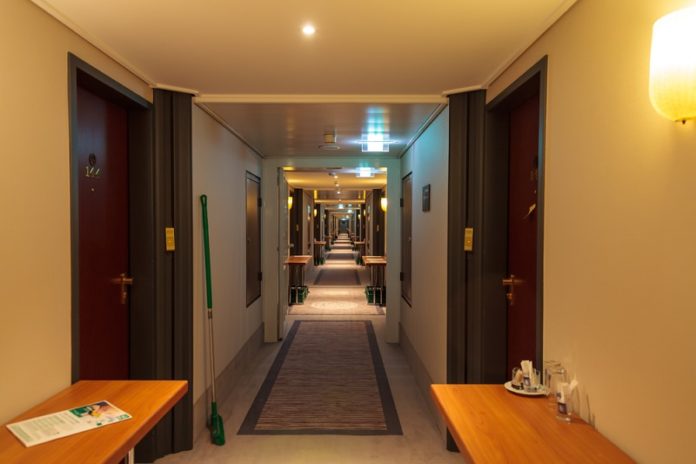 A person who absconded from mandatory hotel quarantine is still at large.
On Saturday, three people left the Crowne Hotel Plaza near Dublin airport. The first breach of the quarantine came only after 24 hours it was introduced.
Two people were found and returned to the hotel. According to The Irish Times, the man who is still missing is believed to have travelled to Northern Ireland and Gardaí believe that this was always his intention.
Despite the breach, there are no plans to assign Gardaí to the hotels.
Private security is being used by Tifco, the hotel group that manages the mandatory hotel quarantine.
Defence forces are involved, however, their role is only to co-ordinate the process. They and the private security have no legal powers to stop people from leaving the hotel.
The Gardaí are responsible for investigating any breaches in quarantine but they have not been stationed at the hotel near the capital's airport.
People can face a €2,000 fine or imprisonment for one month for breaching the quarantine.
A spokesperson for the Taoiseach said:
"It is important to remember that arrivals who are placed in mandatory quarantine are not prisoners, nor have they committed a crime.
"Therefore, it would not be appropriate to have gardaí permanently stationed at designated facilities. However, the gardaí are there to investigate and police any breaches of the law."
Gardaí made their intentions clear when the process behind hotel quarantine was being constructed. They believed that they should only interfere when a person leaves quarantine early.
The defence forces also expressed concerns about the use of military personnel in managing the security of the hotels used for quarantine.
In Australia, an inquiry heard that the failure to use the police in managing security at a hotel in Victoria led to 768 people dying and 18,418 infections in a second wave.
At the moment, there are 33 countries on the high-risk list for mandatory hotel quarantine of travellers arriving in Ireland.
Reports emerging this morning state that the list is set to be doubled in size with the addition of a further 43 countries.
New countries included are the USA, Germany, France and Italy and many more. The UK is not on the list and a decision will be made later this week.
The countries recommended for the list are countries that have concerning variants or where Covid-19 cases are greater than 500 per 100,000.