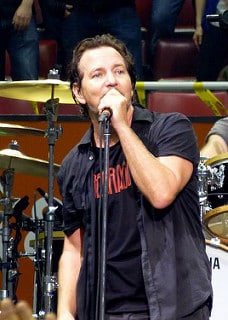 Who would have thunk it?!
Pearl Jam front man, Eddie Vedder has revealed that Paul McCartney once accidentally punched him in the face!
Fresh from his stellar gig at Dublin's 3Arena, Vedder hosted a guest DJ set on SiriusXM's new Beatles channel yesterday (June 12), during which he fondly recalled the incident.
It seems the two musicians were hanging out in a hotel bar in Seattle when McCartney began animatedly telling Vedder about a time when he hit a man. The Beatle mimed punching someone, but accidentally caught Vedder in the face.
"I remember tasting a bit of blood," Vedder said, adding that the former Beatle did apologise.
"And I remember when it went away, when the pain subsided and the swelling went down," he continued. "I kinda missed it."
Listen to Vedder telling the story below, via Stereogum.
The Beatles of course celebrate the 50th anniversary of the iconic Sgt. Pepper's Lonely Hearts Club Band this month. The new Beatle's channel is just one of the ways the anniversary is being marked. The album was re-released with an expanded deluxe edition and the city of Liverpool is honouring its most famous son's with a full blown festival. It's in full swing at the moment with an array of performers reinterpreting the album's 13 tracks in performances throughout the city; from choirs to cabaret performers and musicians to artists and live installations, inspired by a different song. The artists are working in partnership with Liverpool-based cultural organisations to bring to life each incredible activity.
The final event – based on the closing track 'A Day in the Life' – will bring celebrations to an end on June 16.
Photo Credit: GabboT