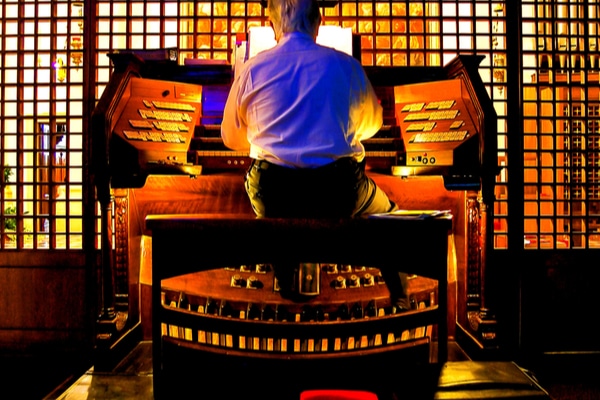 If you are desperate to see live music in any capacity these days, an organist for the St. Louis Blues is performing classic rock tracks at hockey matches! While gearing fans up for some iced action, Jeremy Boyer treats them by incorporating his love of rock into the routine.
The self-taught organist began playing in his church when he was just 12 years old and now finds himself entertaining hockey fans. During a recent St. Louis hockey match, Boyer played Rage Against the Machine's Killing in the Name and absolutely nailed it. After posting his rendition of the classic, protest track on TikTok, it has now received over 2 million views.
In an interview with the Archdiocese of St. Louis, where Jeremy (aka @jabsmusic on TikTok) also plays, Boyer said; "Through music, you can express so many emotions; joy, sorrow, or what have you…Through music, you can pick a different piece of a song and it gives you a chance to really express yourself in a different way or keep you focused in a different way."
As well as performing during St. Louis Blues hockey games, Boyer also performs during the St. Louis Cardinals baseball games. As an avid lover of rock, the organist is said to have slipped in quite a few renditions throughout previous games. Boyer has played famous rock anthems such as AC/DC's Thunderstruck, Led Zeppelin's Kashmir, Queen's Radio Ga Ga, Van Halen's Jump. Catering to all lovers of music, he even performs Ruff Ryders Anthem by DMX, and Nelly's Country Grammar.
Not shy of performing in front of thousands of people, Boyer has also performed during the 2019 Stanley Cup. Hopefully the St. Louis organist will want to try his luck in Ireland and play Doors tracks across Richmond Park. Wherever Boyer plays, the craic will surely be had but until then, you can watch Jeremy absolutely nailing Killing In the Name on the organs below.