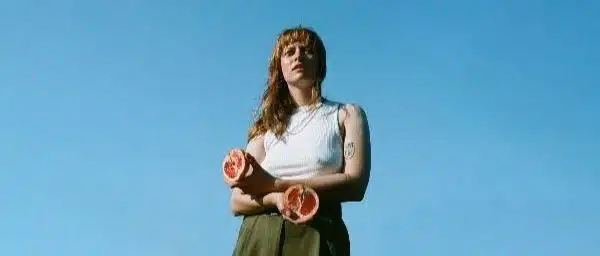 One of the most exciting new artists around, Dublin singer-songwriter Orla Gartland joined Kieran McGuinness on the Nova Guestlist on Sunday, to chat about her new single 'Zombie!'
LISTEN TO THE FULL CHAT BELOW
The song is her second release of the year, following "More Like You."
Zombie! is a taste of her eagerly-anticipated, forthcoming debut album, due for release this year. The celebrated artist (compared to Stevie Nicks, St Vincent, & Haim) chatted about her writing process, releasing during covid, and smuggling serious topics onto your ears under upbeat melodies!
Not to be confused with a cover of "The Cranberries", Gartland elaborated on the song's lyrics in a statement:
"Zombie!" is about repressing emotions until one day they burst out of you all at once. Specifically it's about a very common, very male kind of repression I witnessed in a boy I loved once—I could see that he felt things but there was a barrier stopping him from expressing them. I hated that for him, it made me so angry at the societal pressures that led him to that place. For me living "like a zombie" became a metaphor for this way of living; someone so seemingly unemotional on the surface they barely seem alive. I scream my head off in the outro of the song and that scream is meant to feel like a huge release, like the moment you let it all out.
Born and raised in Dublin, Gartland started writing songs when she was 14 years old. Unable to convince any of the local pubs and venues to let her perform, she honed her craft online, before heading out on tour the day she finished school. Upon her return, she packed her bags and moved to London, spending the next few years writing, recording, touring and gathering fans apace.
CLICK PLAY TO HEAR ORLA & KIERAN