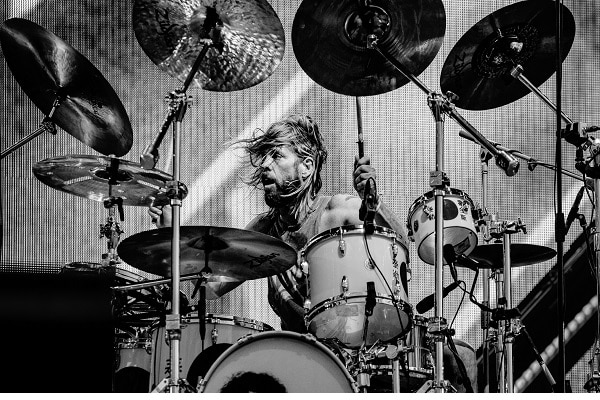 Last weekend, a group of over 1,000 musicians mainly from Italy aka Rockin'1000, performed a set of rock covers paying tribute to the late Foo Fighters drummer Taylor Hawkins.
Hawkins sadly passed away in March aged 50, with the outpouring of grief and tributes endless.
This group of musicians set up under the Rockin'1000 banner in July 2015.
In an attempt  to encourage Foo Fighters to visit the Italian town Cesena, the band staged a viral performance of their track 'Learn To Fly'. 
Since then, they performed a 21 song set to an audience of 50,000 people in Paris' Stade de France. These tracks included hits from such bands including The Who, Pink Floyd, Rage Against The Machine and The White Stripes.
"dedicating this song to one drummer: Taylor Hawkins"
During this performance, the band also shared a cover of Foo Fighters' My Hero, paying tribute to drumming icon Taylor Hawkins. The description read, "One thousand musicians dedicating this song to one drummer: Taylor Hawkins".  Check it out for yourselves here.
The band also performed another hit from Dave Grohl and co 'Learn To Fly'.
Following Hawkins' death, Foo Fighters called off all remaining shows from their tour. They also cancelled their performance at the Grammy Awards.
"The Foo Fighters family is devastated by the tragic and untimely loss of Taylor Hawkins", the band said in a statement.
"His musical spirit and infectious laughter will live on with all of us forever. Our hearts go out to his wife, children and family, and we ask that their privacy be treated with the utmost respect in this unimaginably difficult time".
Since the, tributes have been paid to the late drummer. Recently, singer Joan Jett hailed Hawkins as a "wonderful guy". 
"It's really a tragedy that so many people who love him, lose him", Joan Jett said of Hawkins death. "But, you know, it's not just physical. He's around. And that's hard for people to hear because they want the physical".  More on this here.