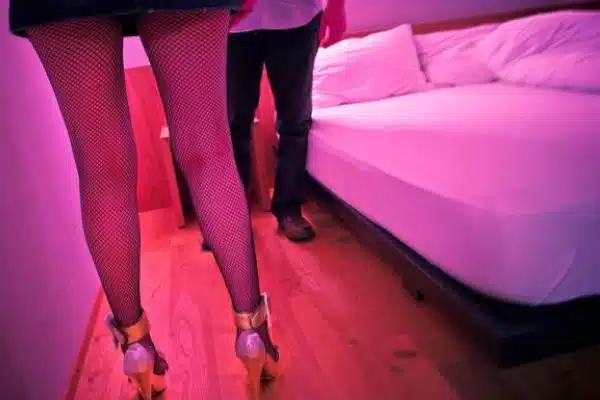 It has been reported that over 50% of sex workers in Ireland are still engaging in intimate work, despite the surge in Covid-19 infections. It also emerged that a new, fresh influx of women have resorted to prostitution having lost their jobs during this pandemic.
Sex worker, Kate McGrew has revealed that despite lockdown restrictions, and the risks to one's health, half of the prostitutes in Ireland are having to engage in intimate work to make money.
She also blasted the Government for "a lack of supports of sex workers". She referred to the fact that sex workers do not even qualify for the PUP. "Very, very few sex workers would have been eligible for the PUP payments. So we were left, once again, to ourselves, to help each other, to help flatten the curve, to help each other survive during this time. It has been extremely challenging".
Kate McGrew described the situation as a "bind".
She added that the pandemic has left many sex workers with "no viable alternatives" to intimate work. Some prostitutes have stopped sleeping with clients, offering webcam or phone thrills instead, due to the surge in Covid-19 cases.
Women resorting to sex work to "make ends meet"
Kate McGrew is the director for the Sex Workers Alliance Ireland. She explained that an influx of women are "becoming involved in sex work", simply to just "make ends meet" after losing their jobs due to the pandemic.
Kate added, "As we face into a recession, more and more people will turn to sex work to survive, especially those already on the margins".
She said, "Some 50 per cent of sex workers are still having to work. And 80 per cent of the people we are talking to are getting calls from clients to work". Adding, "We have seen a lot of new people. We have seen people beginning to do more online work like selling content, clips, that is definitely seeing huge swells of increase in that particular area of the sex industry".
She said because of the lack of supports to women in this situation, they are simply forced "to go back to work". She also added that there are a lot of sex workers reluctant to engage in virtual web cam services. They have fears about their privacy.
Kate said, "We tried to do what we could to get workers to move to working virtually. But that is not an option for a lot of people. If they live with a partner or are concerned about their image going out".
Leaflets for sex workers:
The SWAI have recently, distributed special harm protection advice leaflets, focussing on sex workers on the streets. They are "simple steps" that sex workers can take to reduce the chances of catching the virus when selling sex.
Kate said, "It was pretty logical stuff. Keep your faces away from each other if you can. If you are in a car, don't have the air conditioning on. It's just giving people as much advice as we can. But knowing they are going to do what they have to do to feed their families and survive".
Former Love/Hate actress, Mary Murray had her say on sex workers in Ireland a few years ago.