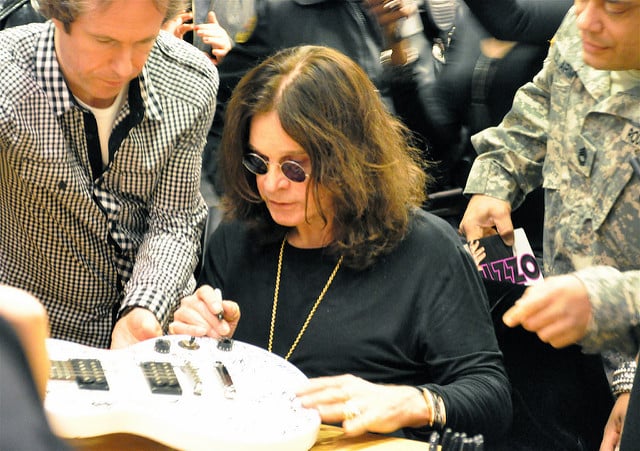 Ozzy Osbourne is undergoing "intense therapy" to address his recently revealed sex addiction.
Much speculation has surrounded his troubled relationship with Sharon Osbourne in recent weeks, and now the possible reason for the disintegration of the decades long partnership has been revealed. A rep for the Black Sabbath singer told PEOPLE, "Over the last six years, Ozzy Osbourne has been dealing with a sex addiction". 
The married couple of 33 years reportedly split back in May when his four year affair with hairdresser Laugh Pugh was revealed. Speaking of their relationship Pugh told PEOPLE, "When I say he gave me the greatest love of my life, I mean it… He made it clear to me and asked me not to see anyone else. We had a very real relationship".
Ozzy on the other hand believes Pugh "took their relationship out of context". Ozzy and Sharon are believed to have things "back on track" however Ozzy is humiliated by his actions, "I am mortified at what my behaviour has done to my family. I thank God that my incredible wife is at my side to support me".
Sharon gave an emotive interview on US TV show 'The Talk', when she explained that Ozzy will be admitted as an inpatient for three months, "It's hard because it affects the whole family, and it's quite embarrassing to talk about… Somehow drugs and drink is more acceptable, I think, but when it's somebody who has a sex addiction, it's embarrassing".
Ozzy's statement concluded by saying, "I would like to apologise to the other women I was having sexual relationships with. Out of the bad comes good".
Meanwhile Ozzy's mistress, Laugh Pugh is in the process of suing Kelly Osbourne for defamation, after she posted a series of abusive tweets where she exposed Pugh's personal phone number and accused her of "elder abuse".
Photo Credit: KevinBurkett