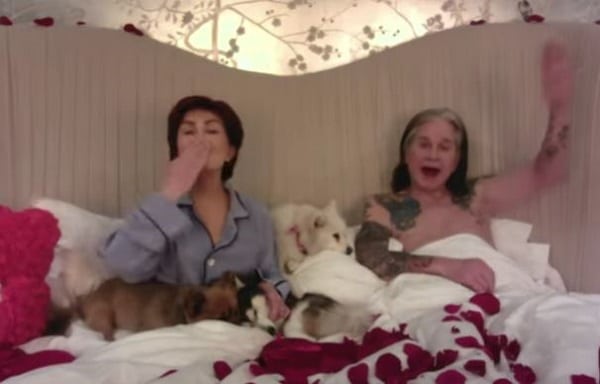 Former Black Sabbath singer and Prince of Darkness, Ozzy Osbourne has revealed he has received the COVID-19 vaccine. Reminiscent of John Lennon and Yoko Ono's protest against the Vietnam War, the Osbournes were interviewed from their bed.
Speaking with his wife Sharon on yesterday's episode of British chat show Loose Women, Ozzy revealed he has had his first dose of the vaccine. When asked if had received the vaccine yet, he replied, "Of course," to which Sharon added, "He says of course – he only had it yesterday!"
The pair appeared on the show via video call from their bedroom in LA to discuss their 40th anniversary together, lockdown, and their upcoming movie biopic. When asked how it felt getting the vaccine, Ozzy said, "it felt like getting stabbed! My arm was hurting yesterday but I'm glad I got it, you know?" When asked if he was relieved to receive the jab, he replied, "Absolutely! As soon as I got it, I felt relieved." You can watch the full interview below.
Ozzy's wife Sharon, and Jack's daughter Minnie, both tested positive for coronavirus last year. Sharon revealed her diagnosis in December and noted she was recovering separately from Ozzy and her family.
Since the start of the coronavirus crisis last March, the Osbournes have openly talked about their concern for Ozzy, given his ongoing health issues with emphysema and Parkinson's diagnosis making him at risk of COVID-19. However, Ozzy previously expressed his scepticism about receiving the vaccine. Back in September, he shared on Apple Music's Blizzard of Ozz Special podcast that he did not want to be one of the first people to get the vaccine.
"People are like, 'I'm not taking the flu shot.' You know what? You can give me anything, but I'm not gonna be number one on that f****** new vaccine," Ozzy said. "I don't want to be the first one to wake up with a set of f****** antlers in the morning."
However, Ozzy's opinion has changed somewhat, with the rocker claiming "I want to get the shot" on his own SiriusXM channel. The 72 year-old said, "But… I look at it this way. If I don't get it, if I don't have the shot, right? I know there's side effects and b***s*** and all these different conspiracies about the f****** vaccine. I look at it like this — if I don't get the shot and I get the virus, there's a good chance I ain't going to be here".
Currently, Ozzy is back in the studio with producer Andrew Watt, working on his Ordinary Man follow-up. On Friday, he shared that he cannot wait "for everyone to hear my new music" after unveiling his animated video for It's A Raid with Post Malone.
"A couple of years ago, I didn't even know who Post Malone was," claimed Ozzy. "Since then, we've worked together on two studio tracks and have performed together twice. Understandably COVID-19 made it difficult to get together to shoot a music video for 'It's A Raid.' So, we opted for this wildly imagined animated video for the final single from the 'Ordinary Man' album."