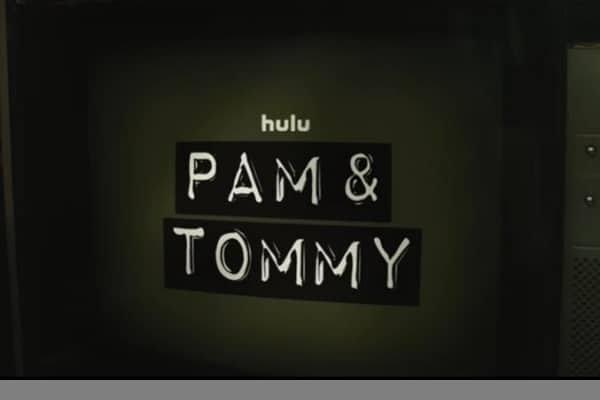 A first-look trailer for Hulu's Pam & Tommy miniseries, starring Lily James as Pamela Anderson, and Sebastian Stan as Tommy Lee, has been released. The new, original limited series – airing February 2nd – will explore the rockstar couple's notorious sex tape scandal.
Nick Offerman, Taylor Schilling and Andrew Dice Clay play roles alongside Seth Rogen and Evan Goldberg, who executive produced the eight-episode series. Craig Gillespie directs this epic love story which included a leaked private tape, filmed on Pam & Tommy's honeymoon, to the public. Rogen and Offerman, the criminals behind the leak, are seen in the trailer watching a secret recording of the couple.
"It's like we're seeing something we're not supposed to be seeing," Offerman says after finding the sex scene of Pam & Tommy, adding: "Which is kind of what makes it so hot." Scenes also depict the former Playboy model and rockstar's reaction to seeing the tape uploaded onto the internet.
Former Mötley Crüe drummer, Tommy Lee, spoke on the upcoming miniseries, earlier in the year, saying he was "stoked" to watch the show. Speaking with Entertainment Tonight, Lee said, "I know Sebastian, he's playing me. From what he's told me, really beautiful story.
"I think a lot of people would think it's one thing, but it's really about privacy and how things got crazy then. There's different laws now. The story's actually cool. What actually happened [between Pam & Tommy] wasn't, but [Stan] tells me it's pretty wild. I feel like it was forever ago. But it's a cool story and people need to know. It's cool. I'm stoked."
One person who is not as keen for the new series is Courtney Love, who labels the show "f****** outrageous", warning it could accentuate "complex trauma" for Pam. The American singer further revealed that an approach was made to her for permission to use one of her Rolling Stone covers in "this piece of s***". I said 'fuck no'. Shocked. Gentleman don't approve this sort of thing."
https://www.youtube.com/watch?v=iQqzMMNrQQI