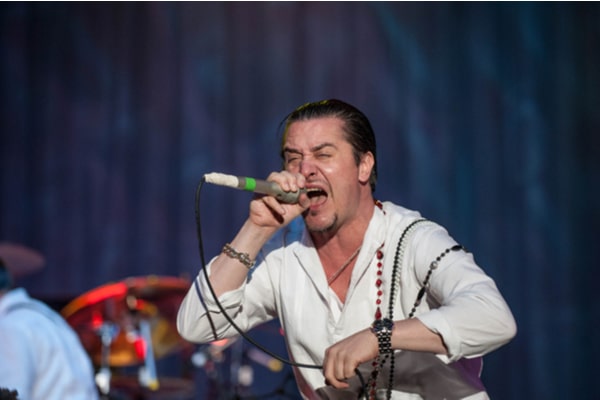 Mike Patton has explained why he urinated on Axl Rose's teleprompter when the band supported Guns N' Roses in '92. The Faith No More lead singer opened up on the debacle while speaking to Anthrax's Scott Ian and Sepultura's Andreas Kisser.
In 1992, Guns 'N' Roses and Metallica were touring in support of 1991 albums Use Your Illusion I and II. Faith No More were invited to open the show, following Kurt Cobain's refusal, as noted in Michael Azerrad's Come As You Are: The Story of Nirvana. Guns' lead vocalist, Axl Rose actually wanted Nirvana to open for them on the tour, but Kurt Cobain declined.
While speaking on Inside with Paulo Baron, Patton said GN'R had treated Faith No More poorly for the entirety of the tour. The rock icons were also notorious for pranking their opening acts, as payback for what Mötley Crüe had done to GN'R when they started out. On one occasion, Slash, Duff McKagan and Matt Sorum took the stage completely naked while Soundgarden were opening for them in '92.
However, Axl would not have expected such payback from his opening acts in return, as Patton recalls peeing on the GN'R frontman's teleprompter.
"One day I was like, so bored. It was just such a drag touring with those guys — I hate to say it," Patton admitted. "They treated us like s***. They paid us really well, but we were like really, just every day, looking for something f***** up to do. So, one day, I just like, took it out, and I pissed all over his teleprompter."
Funnily enough, this was not the first time the Faith No More singer used his bodily waste against GN'R, with Patton detailing another time that almost horribly backfired.
"What I did is I took a chocolate cake. It was at a big table of catering. I took this cake and I put some of my s*** inside of it, [then] put it back there," Patton explained. "And then we watched, because I was hoping like, 'Oh, maybe Axl Rose will eat it.' Instead, our crew guy f*****' picks it up."
As the unaware crew member sat next to Patton, it made him feel tremendous guilt and finally led him to own up to his prank. "He's about it eat it, and I'm like, 'Don't do it! Don't do it!' Like, at the last second."