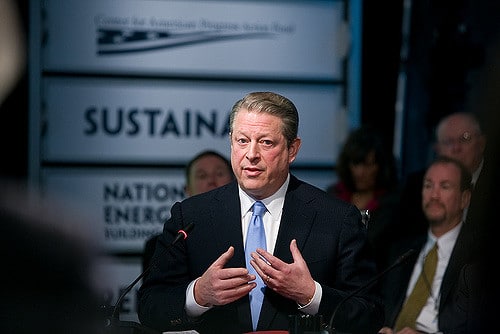 Famous musicians such as Paul McCartney, Bono, Pharrell Williams and lots more have been called to produce a new music video to raise awareness of the effects of global warming. The clip, called "Why Are You Inconvenient?" is in conjunction with the release of Al Gore's new film 'An Inconvenient Sequel'.
'An Inconvenient Sequel' is following up the Oscar-winning 'An Inconvenient Truth', which saw the Eco-passionate politician fighting for the future of our planet.
A lot of stars have come out in support of Gore's efforts to spread awareness of global warming. "I'm inconvenient for the future of the planet," said McCartney. "The poorest of the poor are furious because they're hit first and worst by climate change," Bono adds. "We have one planet that we live on – we ain't on Mars yet," notes Williams. "Until we get there, I'm inconvenient."
Other stars have offered their support – Maroon 5's Adam Levine, the Chainsmokers, Camila Cabello, Andra Day, Jennifer Hudson, DNCE, Steve Aoki, Randy Jackson and Ryan Tedder, to name a few. Tedder has also made a personal contribution to the cause, co-writing a song called "Truth to Power" that features in " An Inconvenient Sequel". One of his other songs "Why Are You Inconvenient?", can be heard in the background when shots of people protesting are being shown on screen.
"An Inconvenient Sequel" was a long time coming. 10 years after "An Inconvenient Truth", Gore's first documentary discussing the effects and dangers that climate change can have on the environment and society. The film won awards for all the right reasons, including two Academy Awards for Best Documentary and Best Original Song.
If you haven't seen it, it's definitely one to watch!
Photo Credit: Center for American Progress Action Fund
*Written by Hannah Murphy