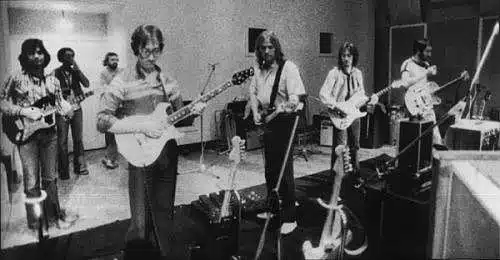 40 years ago this week, Paul McCartney assembled the epic 'Rockestra', which featured the largest group of rock legends to record together to date. 'Rockestra', formed in 1978, consisted of legendary icons including The Who's Pete Townsend and Kenney Jones, Pink Floyd's David Gilmour, Procol Harum's Gary Brooker, The Face's Ronnie Lane, The Attraction's Bruce Thomas and Led Zepplin's John Paul Jones and John Bonham.
The epic rock stars formed a collective to record two tracks with Wings, later released on their hugely successful album, 'Back To The Egg'. 'Rockestra Theme' and 'So Glad To See You Here' was recorded at London's Abbey Road Studios and earned McCartney the 1980 Grammy Award for Best Rock Instrumental Performance.
Despite Paul McCartney's views of rock becoming more "compartmentalized" in the late 1970's, he believed that variety was imperative to produce incredible music: "Y'know, I'm not kind of into that, 'this is what I do — one specific kind of thing.' Sometimes I sort of think, 'Well, maybe I should kind of get it all together into one kind of music form, so we come on and play one kind of thing.' But I'm not like — that's not me, y'know? It never ends up like that with me. It always ends up a touch of this, a touch of that, 'touch of that, c'mon, let's have a laugh, get y'hands together, and we'll have a touch of that."
Despite 'Rockestra' performing together only once, most of the artists regrouped in 1979 for 'The Concerts For The People of Kampuchea' benefit in London. The fundraising event also included groups such as Queen, The Clash, The Pretenders as well as The Specials.
Photos: johnrieber