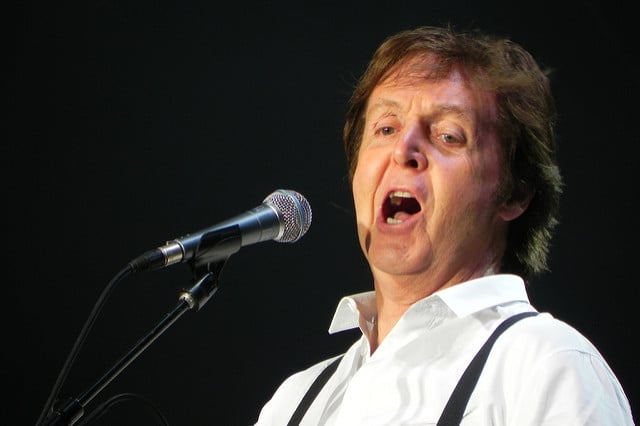 Out today (December 7th) are the latest deluxe sets in the "Paul McCartney Archive Series" series spotlighting the first two Wings albums — 1971's Top 10 hit, Wild Life and 1973's chart-topping Red Rose Speedway. The material features the earliest incarnation of the group, including co-founders Paul and Linda McCartney, Denny Laine, and Denny Seiwell. Guitarist Henry McCullough joined Wings in January 1971.
According to the official press release. . .
WILD LIFE
The four-disc (3CD, 1DVD) limited deluxe edition of Wild Life, the debut album from Wings, was originally released in December 1971. Written by Paul and Linda McCartney (with the exception of a cover of Mickey & Sylvia's 'Love Is Strange'), Wild Life is beloved by fans for its raw and direct vibe — having been recorded in just over a week with the majority of tracks laid down in a single take. Wild Life's limited deluxe edition treatment features the full album remastered at Abbey Road plus 25 bonus audio tracks including rough mixes of the album, original single edits, B-sides, home recordings and other previously unreleased material across three CDs. The set's DVD features rare footage of acoustic home videos, rehearsals and more. TheWild Life deluxe package includes a 128-page book written by David Fricke telling the story behind the album — including track-by-track information and new interviews with Paul and key album personnel, a 48-page scrapbook of tour diaries, lyrics and set lists, unpublished Polaroids, lyrics, notes and memorabilia from the MPL archives. Wild Life's download redemption card will provide access to all audio in HD 24/96kHz unlimited high-resolution versions.
RED ROSE SPEEDWAY
Next up is a six-disc (3CD, 2DVD + 1Blu-ray) numbered limited deluxe edition of the second Wings album and first credited to Paul McCartney and Wings, Red Rose Speedway. Released in April 1973 and featuring the #1 single 'My Love,' Red Rose Speedway was the first Wings album to hit #1 on the U.S. chart. The Red Rose Speedway limited deluxe edition features three discs of audio including the original album remastered at Abbey Road, no less than 35 bonus audio tracks, including a reconstruction of the originally conceived double album version of Red Rose Speedway, singles, B-sides, alternate mixes and previously unreleased tracks. The 2DVD + Blu-ray portions of the deluxe are packed with rare and previously unseen footage, including the James Paul McCartney TV Special, interviews and music videos, as well as the never before seen film The Bruce McMouse Show — fully restored and remixed in stereo and 5.1 surround sound. The package includes a folio containing 14 replica hand drawn original character sketches by Paul and facsimile dialogue sheets for the film, a 128-page book containing many previously unpublished images by Linda McCartney, expanded album and single artwork from the archives and story behind the album — including new interviews with Paul McCartney, and key album personnel — and track-by-track information, written by Amanda Petrusich, five replica handwritten lyric sheets and photo print, a 64-page 'Wings In Morocco' photo book, all housed in a numbered outer slipcase. The Red Rose Speedway download redemption card will provide access to all audio in HD 24/96kHz unlimited high-resolution versions.
Macca has also revealed he almost didn't do that brilliant Carpool Karaoke with James Cordon in Liverpool that has been watched by more than 36 million people.
He's told Liverpool's Echo Newspaper: "I rang up and said 'hey I don't think I can do this I haven't got time' and James got back to me and said 'oh no you've got to do it, give us something'. "And the minute I got in that car I loved it."