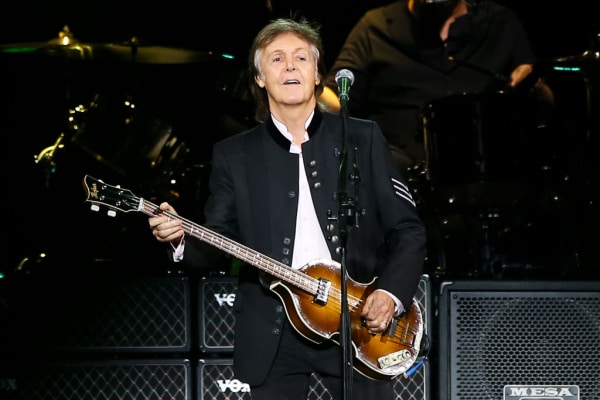 Paul McCartney is among several household music names, who will be auctioning off their Gibson guitars in order to help victims from the war in Ukraine.
These gibson guitars which are being sold via Julien's Auctions, will be auctioned off by the likes of Kasabian, Slash, Madness and the Rolling Stones among others. Bidding for these guitars will begin on October 11.
A live auction will also run from November 11-13 here, and in person at New York's Hard Rock.
A limited edition of four Guitar For Peace Les Paul Custom electric guitars, including autograph books by artists like My Chemical Romance, The Charlatans, The Vaccines, Paloma Faith, Toyah, along with the actor Jason Momoa is also included.
On top of this, Gibson will also be selling the Guitars for Peace t-shirts, raising funds for the people of Ukraine. You can order them here.
All proceeds from this auction will also go towards the current humanitarian need for the people of Ukraine, along with rebuilding efforts once the ongoing conflict ends.
"help them through this"
Speaking about these auctioned Gibson guitars, former Beatle Paul McCartney is hopeful that it will help the "fine people of Ukraine" to get "through this aggressive Russian invasion". 
"I'm happy to auction this beautiful guitar of mine to benefit the fine people of Ukraine," McCartney said. "Hopefully it will help them through this aggressive Russian invasion".
"It is an honour to represent the brave sovereign state of Ukraine," Slash added. "I'm proud to support them during this conflict". 
News of this auction comes just weeks after Noel Gallagher announced the release of a new set of Epiphone and Custom guitars.
The guitar known as the Noel Gallagher 1960 ES-355 will also feature, "a multi-ply bound maple body, a mahogany neck and ebony fretboard, a Varitone switch, and a Bigsby® B7 vibrato tailpiece". 
Elsewhere, a book exploring a period in the life and career of Paul McCartney will also be released this December.