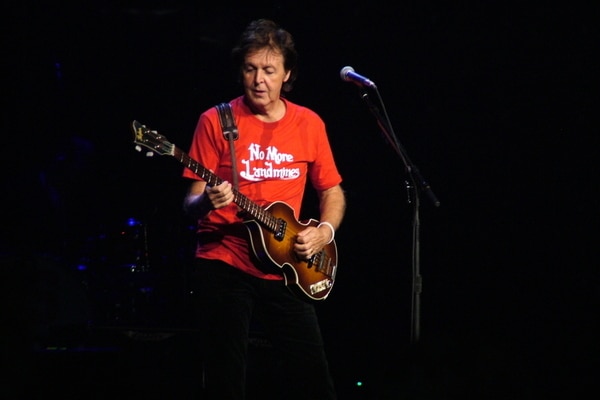 Paul McCartney has announced that he no longer signs autographs for fans.
No, the Beatle hasn't turned into a diva, he just views autographs as pointless and would prefer to have a chat with his fans.
"It always struck me as a bit strange – 'here, can I write your name down on the back of this till receipt please?' Why? We both know who I am," Macca said in a new interview with Reader's Digest.
It's not just autographs that the scouse songwriter frowns upon. He's no fan of selfies either.
"What you've usually got is a ropey photo with a poor backdrop and me looking a bit miserable," he said. "Let's chat, let's exchange stories."
It seems McCartney is following the lead of his former bandmate Ringo Starr, who stopped signing autographs back in 2008. Starr had grown tired of seeing his autograph sold by so-called fans.
"Serious message to everybody watching my update right now peace and love, peace and love," Starr announced via a video message. "I want to tell you, please. After the 20th of October, do not send fan mail to any address that you have, nothing will be signed after the 20th of October, if that has a date on the envelope, it's going to be tossed. I'm warning you with peace and love I have too much to do. So no more fan mail, thank you, thank you, and no objects to be signed, Nothing. Anyway, peace, love, peace, of love."
McCartney recently decided to address the decades long debate over whether he or John Lennon instigated the breakup of The Beatles.
According to Macca, it was Lennon who was responsible for the split in 1970.
"I didn't instigate the split," he told the BBC. "That was our Johnny. This was my band, this was my job, this was my life, so I wanted it to continue."
At the time of the split, it was heavily speculated that it was McCartney's doing.
"I had to live with that because that was what people saw," McCartney said. "All I could do is say, 'no'. I am not the person who instigated the split. Oh no, no, no. John walked into a room one day and said I am leaving the Beatles. Is that instigating the split, or not?"
Beatles fans are eagerly awaiting the release of the Peter Jackson directed documentary Get Back. The doc will air in three parts on Disney+ on November 25th, 26th and 27th. Utilising hours of previously unseen footage, Get Back chronicles the recording of the album Let It Be and the buildup to The Beatles' final live performance, famously staged on London's Savile Row rooftop.