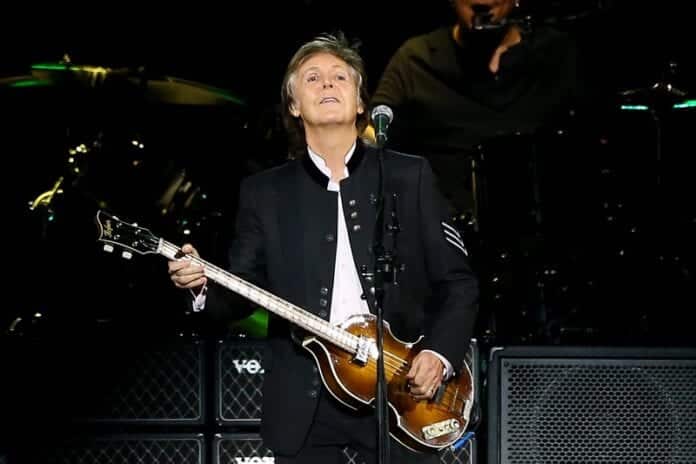 Paul McCartney is to release a new cookbook filled with many meat-free recipes from his late wife, Linda McCartney.
The Beatles legend is teaming up with his daughters, Mary and Stella to launch 'Linda McCartney's Family Kitchen: Over 90 Plant-Based Recipes to Save the Planet and Nourish the Soul'.
The trio is updating Linda's classic vegetarian recipes such as her shepherd's pie, chili non-carne, her take on sausage rolls, and 'American styled' pancakes. The new book will also feature stories and personal photos of the family in the kitchen.
In a statement, Paul McCartney said:
"Years ago, before anyone had woken up to the idea of environmental and health and animal welfare issues, Linda was blazing the trail with vegetarianism, telling people about it and promoting it.
"At home, she would cook for the family and these recipes have been now brought up to date for a modern audience, so they're all now plant-based and fabulous."
He added, "In the book there are family photographs and stories from those days, and of course lots of great, beautiful-tasting healthy recipes. So I hope this book inspires conversations about sustainability and about modern living amongst people besides also just giving them some great recipes to eat."
New recipes will also feature in the book such as the family's take on pulled jackfruit burgers, pad Thai, and crunchy pecan cookies.
'Linda McCartney's Family Kitchen: Over 90 Plant-Based Recipes to Save the Planet and Nourish the Soul' will be released in June and is available to pre-order here.
This isn't the only book the Beatles legend is working on, check out Radio Nova's report here on his new book entitled 'Grandude's Green Submarine'.
In other Paul McCartney news, a letter he wrote which settled a long-lasting debt is set to go on sale at auction.
In 1958, McCartney and George Harrison were on a hitchhiking holiday and eventually found themselves in the seaside resort of Harlech in North Wales which is famous for its castle and the song, 'Men of Harlech'.
The duo knocked on the door of a farmhouse belonging to the Brierley family and were allowed to pitch their tent in the field at the rear of their bungalow.
Due to a heavy downpour on the first night, the pair took refuge in the farmhouse and stayed with the Brierley family for a week.
According to the Independent, McCartney and Harrison befriended the young John Brierley who was a musician as well.
John Brielerly on previous occasions had recalled playing the local pub in Harlech and spending time with McCartney and Harrison. The trio would play pool and listen to Elvis Presley's first L.P.
McCartney also played the family's piano and tried to learn the solo from the Buddy Holly song, 'Think It Over'.
The pair enjoyed themselves so much that a year later they returned to the Brierley's home and McCartney left with a blanket belonging to John's mother, Irene.
Irene remembered the blanket as she saw The Beatles take over the world. In the 1980s she wrote to Paul McCartney about the blanket, joking that she was short a blanket.
He responded:
"Dear Mrs Brierley (Irene), Your letter reached me eventually and I was sorry to hear about my 'debt'.
"I remember well the fun we had in Harlech and hope the enclosed cheque will settle our money differences!!
"Excuse the scrawl as I'm trying to write this on a bouncing express train!
"I was very sorry to hear about your hubby – he was a very nice man. Please give my best to your boys.
"Kindest regards, Paul (McCartney)."
Mrs. Brierley then went on to cash the £30 cheque that Paul had sent.
That letter is now going up for sale at auction and has a starting bid of £3,000 (€3,519). Click here to view the lot and other Beatles memorabilia.