Disney+ have announced that the new Rick Rubin documentary series "McCartney 3,2,1" is set to premier exclusively in Ireland as a Star Original on the platform from Wednesday 25 August.
The six-part, limited series marks the first time the Beatles' original masters have ever left London's Abbey Road Studios and finds Paul McCartney and famed record producer discussing all aspects of his 60-year-career.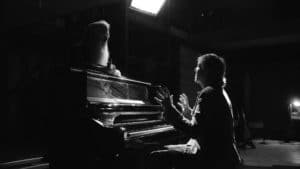 McCartney and Rubin serve as two of the project's executive producers, with the series being directed by Zachary Heinzerling. "McCartney 3,2,1" is produced by Frank Marshall, who's receiving raves for the recent The Bee Gees: How Can You Mend A Broken Heart doc.
In the series, Paul McCartney chats about his groundbreaking work with The Beatles, the emblematic 70s arena rock of Wings and his 50-plus years as a solo artist.
"McCartney 3,2,1" is said, "to explore music and creativity in a unique and revelatory manner. It's an intimate conversation about the songwriting, influences, and personal relationships that informed the iconic songs that have served as the soundtracks of our lives".
In an official statement announcing the program, Hulu Originals and ABC Entertainment's president Craig Erwich said: "Never before have fans had the opportunity to hear Paul McCartney share, in such expansive, celebratory detail, the experience of creating his life's work — more than 50 years of culture-defining music. To be an observer as Paul and Rick Rubin deconstruct how some of the biggest hits in music history came to be is truly enlightening."
The series breakdown for all six episodes of McCartney 3, 2, 1 are:
Episode 1: "These Things Bring You Together": McCartney shares stories from the early days, shedding new light on his relationships with John Lennon and George Harrison. Welcoming an outside musician into the studio impacts one of The Beatles' most famous songs.
Episode 2: "The Notes That Like Each Other": McCartney talks about his unique approach to musical composition, influences from Bach to Fela Kuti and some of the innovations that made his music altogether unique.
Episode 3: "The People We Loved Were Loving Us!": McCartney pays tribute to some of the artists that influenced The Beatles. He discusses the band's trip to India and the expansion of The Beatles' music and consciousness.
Episode 4: "Like Professors in a Laboratory": McCartney and Rubin discuss musical experimentation and The Beatles drive to break boundaries. The episode features segments on Ringo Starr and "fifth Beatle" producer George Martin.
Episode 5: "Couldn't You Play It Straighter?": McCartney talks about finding his place in the band and the evolution of The Beatles' sound and identity. This episode also focuses on a few of his iconic contributions to the band.
Episode 6: "The Long and Winding Road": McCartney and Rubin discuss McCartney's songwriting evolution, his creative partnership with John Lennon, and his development as a solo artist.
Since writing his first song at the age of 14, Paul McCartney's career has been impossibly prolific and singularly influential. In the 1960s, McCartney changed the world forever with The Beatles. He didn't stop there and has continued to push boundaries as a solo artist, then with Wings, and also collaborating with numerous world-renowned artists.
McCartney has received 18 GRAMMYS and in 1997 was knighted by Her Majesty Queen Elizabeth II for his services to music. His most recent album, "McCartney III," was No. 1 in the U.K. Official Charts as well as No. 1 on the U.S. Billboard Top Album Sales Chart upon release in December 2020. McCartney is a dedicated philanthropist, passionately advocating for many causes including animal rights and environmental issues.