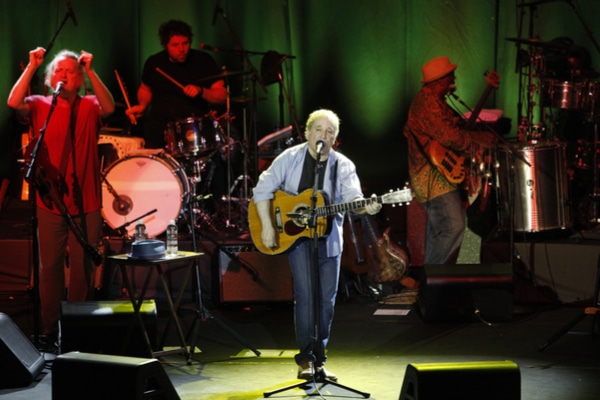 Paul Simon is bringing his Homeward Bound Farewell Tour to the RDS on Friday, July 13th and he's not coming alone.
Special guests on the night will include James Taylor & his All-Star Band, while Bonnie Raitt will also share the stage.
The gig promises fans an historic evening of career-spanning hits and timeless classics as the legendary songwriter, recording artist and performer hits up Ireland following the beginning of his farewell concert tour on May 16th in Vancouver.
According to Simon, the Homeward Bound tour is a fitting culmination of a performing career that began in the early 1960s and has coincided with his artistic journey as a songwriter and recording artist until the present day.
If you're planning on heading along to the gig – please take public transport where possible. Keep in mind that backpacks and large bags will not be allowed; only small bags measuring no bigger than A4 will be permitted.
Under 16's must be accompanied by a parent/guardian over 18 and you may also be asked to prove your age with photo ID, acceptable forms of proof include: Passport, Garda age card or driving licence.
Bear in mind there will be large crowds in the area. Gates open at 4pm and will see special guests take the stage first; the incredible Bonnie Raitt who will be on stage at 5pm with James Taylor up next at 6.15pm. Paul Simon is to take centre-stage at 8pm.
In terms of music this is what you can expect to hear from the legendary performer…
America
50 Ways To Leave Your Lover
The Boy In The Bubble
Dazzling Blue
That Was Your Mother
Rewrite
Mother and Child Reunion
Me and Julio Down By The Schoolyard
Rene and Georgette Magritte With Their Dog After the War
Can't Run But
Bridge Over Troubled Water
Wristband
Spirit Voices
The Obvious Child
Questions for the Angels
The Cool, Cool River
Diamonds On The Soles of Her Shoes
You Can Call Me Al
Graceland
Still Crazy After All These Years
Late in the Evening
Homeward Bound
Kodachrome
The Boxer
Bye Bye Love
Old Friends
Bookends Theme
The Sound of Silence